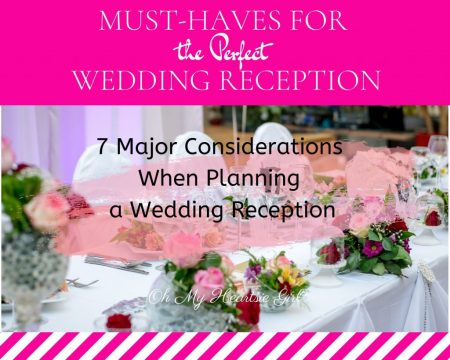 Planning the perfect wedding can be a bit overwhelming. But you're not alone though! Ask any bride-to-be, and you'll surely get an answer that is beyond nervous. Brides-to-be tend to keep track of even the tiniest of details for their wedding, so there's no wonder how they get all those wedding nerves.
Although, being meticulous is not entirely a bad thing. In fact, not paying much attention to detail won't get you a wedding anywhere near perfect. Being very careful and precise with planning your wedding is an absolute necessity if you only want nothing but the best.
From deciding which lounge furniture rental suits your wedding theme best to determine the perfect lighting that will match your colour scheme, a lot sure goes just to make sure not a single item is overlooked. To make matters simpler, here is a curated list on wedding reception must-haves you might want to check out and incorporate in the reception for your big day.
Furnishings
Expecting a large number of guests and you don't have enough seating to accommodate all of them? Don't fret. A lounge furniture rental might just be the solution to your problem.
Not only can it solve your accommodation problems, but you can also expect furniture rentals to beautify and transform your venue completely without eating into your budget. It will spice up the whole ambiance of your wedding reception.
Your guests will appreciate all the class and elegance your furnishings will bring. To incorporate a lounge furniture rental that suits your reception area the best, go for one that complements well with your wedding theme.
Center-pieces
A center-piece is a crucial enhancer to your theme. Most people disregard this decorative piece during the planning but including this in your checklist will pay-off in the end. Whether you want a flower, a stack of books, or a tree even, you want the centerpiece on your reception table to stand out for your guests to see. As your guests sit at their designated tables, they will surely notice how the centerpiece completely complements everything else. Remember, you can choose any centerpiece you want as long as it matches your wedding reception's overall appearance.
Candles in Lanterns
If you're a big fan of candles, whether it's a naked flame or a battery-operated candle, you can definitely use these essentials to enhance your venue's romantic vibe! And to take these candle glow effect to the next level, present them in lanterns. You can even go all the way and invest in scented ones if you want a room not only flickering with candlelight but also an atmosphere filled with a scent that evokes romance.
Photo Booth
Your guests will even have more fun with a photo booth right around the corner. Get your extra photo booth props (hats, moustaches, and giant glasses) and a wedding-theme coordinated backdrop all ready for the guests to take a snap-in.
Lighting
When it comes to lighting, make sure the set-up matches your theme's colour scheme. You may also consider adding fairy lights if you want that wow-factor and fairy tale feels in a flash. Using a few fairy lights will add magic to the air and mind you, they are also a cost-effective option compared to other forms of lighting.
A Show-stopping Wedding Cake
For centuries, wedding cakes have been considered as one of the most important aspects of any wedding. It's not only present at any reception, but it's also one of the highlights guests expect to see when they enter the venue. So it only makes sense to coordinate your wedding cake with your overall theme.
Your wedding day is an important event that can happen in your life. You want to make sure that when you're grey and old, you get to reminisce this day as the most magical moment you get to experience together with the love of your life. Choosing the right details to include in your wedding reception is a must to make every bit of your wedding day perfect.
[…]
Link Roundup: How To Save Money On Your Wedding
5 Tips to Look Perfect On the Wedding Day
Wedding Proposals & How Social Media Has Changed It

This post may contain affiliate links and I might receive compensation if you make a purchase after clicking on a link.