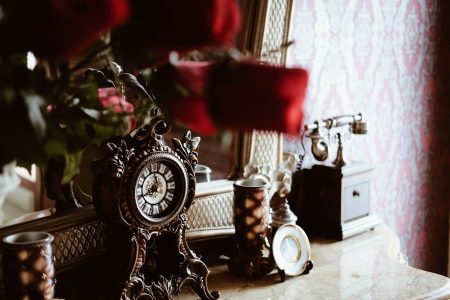 Image Source: Pexels
We are all enchanted by fine antiques, and indeed, many people adorn their homes with antique and vintage furniture, partly to enhance home comfort and partly as a form of long-term investment. In this article, take a look at antique timepieces and also learn about a few dos and don'ts for those who wish to collect these incredible examples of micro-engineering.
Don't Rush Into A Purchase – It is always best to approach antique acquisition with a cool head. Search a few dealer websites and see what they have currently listed, then you can narrow down your shortlist to a few pieces and then make an informed decision about the purchase. One thing you should avoid is over-spending on your hobby; only invest when you can afford it.
Do Your Own Research – Luckily, the Internet is full of valuable information, especially regarding antique clocks, and spending a few hours at the weekend will help to educate you in the field of antique timepieces. If you are using Google search to spot 'antique clocks near me,' it won't be long, and you would be led to an established antique dealer, who would gladly show you a wide range of antique clocks, pocket watches and luxury vintage wristwatches, all at affordable prices.
Don't Respond To Unsolicited Contact – An antique dealer would never approach a potential client, rather it is always the other way around. When a dealer approaches you, the chances are they have some amazing deals and if it seems too good to be true, it probably is.
Do Carry Out Clock Maintenance – Clocks have a lot of moving parts and that means maintenance. Talk to an established antique dealer about your clocks and they can recommend an approved service technician. You won't need reminding that vintage clocks are extremely delicate and if you have no practical experience with such clocks, you are advised to call in an expert. Don't make the mistake of thinking a stopped clock saves on maintenance, the device was designed for movement and it should not be left unwound for very long.
Do Preserve The Clocks By Providing The Right Environment – Both temperature and humidity can affect antique timepieces. Make sure that the rooms where clocks are placed are not too hot or cold and that there is a good airflow. Keep clock faces away from strong sunlight, as this could tarnish the surface.
Don't Forget Winding – Of course, antique clocks require winding, which should be done according to the maker's instructions. A Victorian Mantle clock would have a small key that is inserted into the rear and you should never over-wind. If you don't have the essential information you need to rewind the clock, the online antique dealer can tell you.
Image Source: Unsplash
If you are on your way to having a good collection of antique and vintage clocks, forging an alliance with a local antique dealer will enable you to source specific timepieces. The professional has contacts with experienced watch and clock technicians, should you require their services.
This post may contain affiliate links and I might receive compensation if you make a purchase after clicking on a link.