Owning a home comes with a lot of responsibility. Not only must a homeowner be able to handle their financial obligations by making timely mortgage/insurance/property tax payments, they must also maintain the property. As with anything, wear and tear give way to the need for maintenance and repairs around the house. Though you may be able to tackle some things on your own, there are certain tasks that require the help of an expert, I know I would not want to take on projects without the help of professionals, thats why they are professional and have contracting licenses to serve the public.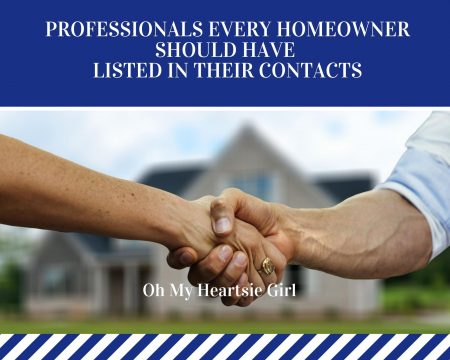 Electrician
One of the most utilized systems in the home is the electrical system. You use energy to power appliances and other devices used around the home. Over time, the system can become damaged requiring repairs, or even an upgrade. Electricians complete services that might include an energy audit, electrical upgrade, exterior and interior lighting, and more.  As working with electricity on your own can prove very difficult, it is ideal to have a local electrician you can call on.
Landscaper
Many homeowners lack the time and/or skill necessary to maintain their lawns. As such, they rely on landscapers to keep their front and back lawn maintained. Landscapers are also great professionals to have on call for tasks that include landscaping architecture or design, hardscape and lighting installation, irrigation maintenance, pruning, gardening, and tree care.
Pest Control
No one likes the sight of pests in the home. Whether you are dealing with mice, cockroaches, or spiders, trying to rid your home of pests on your own can be time-consuming and costly. Location-based pest control companies, however, are skilled in ridding properties of common area pests. So, if you lived in Virginia, for instance, you would want to have a company who offers in pest control services in Virginia to get the best help. Utilizing safe processes, pest control experts properly get rid of unwanted guests, while also providing you with insight on how to keep them out.
HVAC Contractor
Every homeowner wants to have heat in the winter and cool air in the summer. With the continued use of both the heating and air conditioning systems in the home, your'll need to have them serviced to ensure they continue to run efficiently. An HVAC contractor is your one-stop shop for all your heating and cooling needs. They offer residential maintenance contracts, which can include preventative maintenance, repair, and new installations.
Roofer
One of the most neglected, yet most important parts of the home is the roof. Your roof is what keeps your property intact. It is imperative that you have a local roofer in mind to help maintain and repair your roof when necessary. This can include installing, cleaning, or repairing the gutter system, as well as repairing damaged roof parts.
Plumber
From the ability to take a nice warm shower to being able to wash the dishes, the plumbing system is very important to a household. Though some online plumbing hacks can help you do things like unclogging a toilet or a sink, when bigger issues arise such as a broken pipe or septic tank backup, you'll need to contact a plumber to help rectify the matter. Plumbers are also good to have on hand should you decide to do renovations in the bathroom that require an expert.
Each of the above-mentioned experts is skilled, trained, and certified to carry out major home maintenance and repairs. If you don't already, now is a good time to begin researching your area for the best location-based contractors or companies for various maintenance and repair tasks. Though you may not need their services now, having their contact information, makes getting the help you need a lot easier.
Related:
Best Things to Outsource to Make Your Life Easier
4 Things at Home That Might Need Immediate Attention
This post may contain automatically and manually added affiliate links, which means I might receive a small commission if you make a purchase using a link at no extra cost to you.