Have you every wondered how many ways you an use or reuse a Mason jar?
I have created a huge board just for Mason Jar Ideas where you will find  different ideas from very creative people. Here is where I compiled all of those ideas to share.   Mason Jar DIY Projects. Have you used Mason Jars for DIY Projects for your home?
I found this beautiful light fixture on Heart and Home they call it a chandy and you can find the directions on the link above, how sweet it is, dont you think? Great for a patio!

 These pretty jars are made to simulate mercury glass and they are beautiful, I have seen these in silver as well. Source Mason Jar Love
And now I have a Giveaway that features lamps made with Mason Jars that I would love to have your Enter For a Chance To Win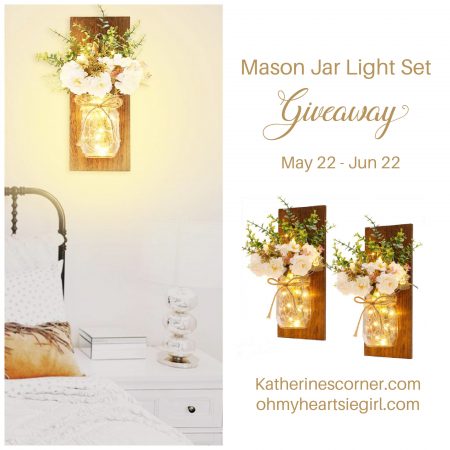 To enter please log into the entry form using your email address.
Have fun and Good Luck in the Giveaway!
The Original Giveaway Post Is Here
Disclaimer -from Katherines Corner when applicable-Some of Katherines giveaways may have sponsors and/or reviews included. Katherines Corner may receive compensation for reviews and advertising provided through a sponsored giveaway. However, no compensation will influence the outcome of any review or giveaway win. Katherines Corner provides reviews to readers in order to provide an informed decision before the purchase. Katherines Corner and its affiliate Bobskatie Enterprises reserves the right to not publish a review of a product or products that do not meet the specified instructions provided to product submission companies or individuals. Reviews are posted in the appropriate section at Katherines Corner and may also be posted on Amazon.com (subject to products availability) . This disclaimer is in accordance with the Federal Trade Commission's 16 CFR, Part 255: "Guides Concerning the Use of Endorsements and Testimonials in Advertising."