We live in a fast, hectic world where there is hardly ever a time to take a break, collect our thoughts and enjoy the moment. But when those rare moments do come, they are usually in our homes. Our oasis of peace where we can relax and let go of the worries of the world. However, this can't happen in a home that is full of mess and lacks organization. And to help that further, the décor in our home can be something that helps us get in the right state of mind.
So let's take a look at how we can make our home the relaxing getaway that we need it to be.
Before the decor

First things first: piling decoration on top of a messy, cluttered room will produce absolutely no positive effect. The first step to any redecoration is the cleanup. You have to get rid of any things that don't add to your peace or joy. This goes for furniture as well as decoration. Once the excess things are out, you need to think about the way you want to arrange it all. Move the furniture around until you find the perfect balance. You want plenty of light and good orientation. You also want enough space to comfortably walk around the furniture.
When everything is in place, a big cleaning is in store. Wipe everything down and deep clean any furniture that needs it. Let fresh air in and spend some time in the room when it is so clean and plain, thinking about what you feel would add to space. Then get to it!
Include all senses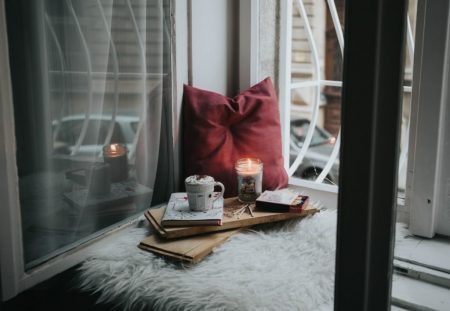 To be truly at peace, we want to include all of our senses into the experience. This means you don't want only art around the room that is nice to look at, but also something to feel and something to smell. Firstly, you want a nice mixture of textures to touch. This can mean a fluffy carpet on a part of the room, while the rest of the floor is natural hardwood. Or it can be a mixture of textures on the pillowcases on the bed.
Next, you want to make sure there is always a pleasant scent in the air. This can mean getting an air purifier to get rid of any bad smells, but also getting scented candles, incense sticks or strategically placing citrus peels and salt lamps, there are plenty of health benefits.
Bring in nature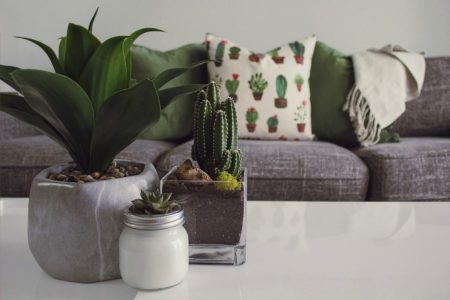 We really don't have a lot of time to spend outdoors in nature, which is why it's important that we bring nature inside. If you have a room in your house that doesn't have any plant life in it – it's time to change that. If you can't handle the responsibility of taking care of so many plants, natural looking artificial flowers are a great option. They will give you the feeling of being connected with nature, without the commitment.
You can try to have some kind of theme going through the plants in your house, like plants that require moisture being in the bathroom, herbs in the kitchen, flowers in the bedroom and large potted plants in the living room. It will help you relax and it is very healthy for our bodies.
Stick with a natural palette

Very bright colors and ones that aren't usually seen in nature won't make us feel relaxed. You want to try and stick to natural, earthy tones that make you feel like you are in nature. This goes for walls, floors and all of the furniture. If you want a pop of color, try to keep it in the natural category, preferably through plants, fruit platters and other natural sources. If you are buying new furniture, natural is the way to go. Wood looks beautiful in any setting, and there are so many different wood textures to choose from nowadays. Having an all-natural palette will bring the space together and make it feel more comfortable for you when trying to relax.
Help yourself lead a more mindful and relaxed life by giving yourself the space to be at complete peace. Remember that, to maintain this state, you have to regularly declutter and clean it, which can be a very calming activity in itself. Tailor the space to your needs and don't let anyone interfere with your comfort.
More to read…..
How To Make A Bedroom Zen
5 Tips to Transform Your House Into a Home
A Touch of Glimmer in Your Home: Decorating with Metallic Finishes
*This post may contain affiliate links, which means I might receive a small commission if you make a purchase using a link.