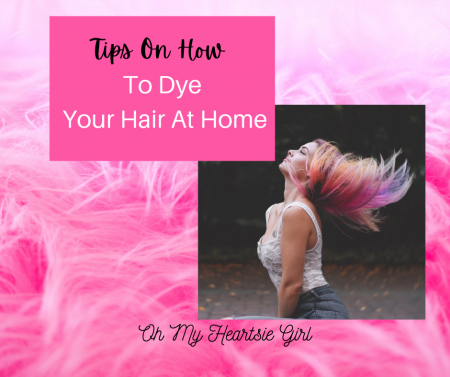 Learning how to dye your hair at home can not only be a real time saver but very rewarding, no more expensive salon trips and sitting in a salon seat for hours on end. Whilst, your may not be able to create complex colors at home without the help of an expert, you can experiment with different colors, go a few shades darker or add some extra highlights. You'll also need to decide on the type of hair dye: permanent, demi-permanent, semi-permanent or temporary, and the shade of color.  Picking the best at home hair dye for your hair can be challenging with so many products on the market, luckily there are sites such as silqy.co that help users decide which hair dye box to pick.
If you're thinking of coloring or bleaching your hair at home, here are some tips that can help you get that desired salon results at home. Learn how you can
use bleach bath to lighten your hair.

Credit: @ayahya09
Don't trust the model
When picking a hair dye box, don't assume that the color depicted on the box will reflect your final results. Everyone's going to have slightly different results, as your natural hair color will affect how well the hair dye mixes with your natural hair color. It's important that you perform a strand test, to get an idea of what to expect.
Follow Instructions
The most important rule when dying your hair at home, is to carefully read and follow the instructions on the dye box. They are there for a reason! Re-read the instructions and be extra careful, if it's your first time doing it at home.
Buy an Extra Box of Hair Dye
If your hair goes down past your shoulders, then it's advised to buy two packs of hair dye so that you can cover your entire head. Imagine running out of hair dye halfway through the application process, only to be left with the other half unfinished. If you do end up needing a second box of hair dye, then apply the hair dye straight away once it's been mixed and developed, as the longer you leave it, the less effective it becomes.
Test Before Applying
When trying out a new product, it's recommended that you do a quick patch test to see how it reacts on your skin. Test at least 24 hours beforehand, so that if the product contains any harmful chemicals that may trigger allergic reactions, you can write it off. Never skip this step, even if you've done it before or trust the product.
You should also do a strand test when trying out a new shade of color. Mix a small amount of hair dye and apply it to an area that isn't easily noticeable to test how well your hair absorbs the dye, as well as getting a feel of how long the process takes for your desired color.
Prepare Your Hair
You want your hair to be in tip-top condition before applying the hair dye. You can and should apply a deep condition mask a few days before the application process. Make sure not to wash your hair on the day as the extra sebum and natural oils on your scalp will act as a barrier that protects your scalp from irritation.
Before applying the hair dye, make sure your hairline is clean and you've given your hair a good brush so that any knots are untangled before beginning.
Section your hair into four parts using a clip so that it's easier to apply: two in the back, and two in the front. Next decide which section's you want to dye first, as it will end up being a little darker due to it having more time to process.
If touching up roots, apply the color starting at the bae of the roots and process.
If changing the color of the whole head of hair, apply to roots first, then comb through to the ends and process according to time in directions.
Be Patient
It takes time for your hair to absorb the hair dye, thus it's important that you be patient. Follow the instructions carefully and enjoy your new look!
To finish, was with a gentle shampoo and condition, sometimes the product you purchased will have a conditioner to use after washing hair. Use as directed to finish you at home hair color process.
9 Habits to Reverse Hair Damage and Get Your Best Hair Ever
Coloring Your Hair For The First Time? Essential Things To Keep In Mind
This post may contain affiliate links and I might receive compensation if you make a purchase after clicking on a link.