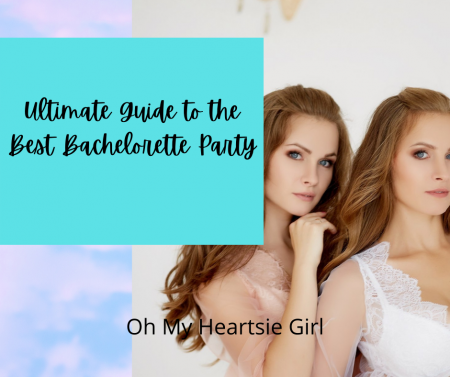 It's party time! Your BFF is tying the knot, so show her a hella good time with the rest of the squad. From creative invites to must-have apps, this guide will help you plan the perfect bachelorette party. 
Creative Invitations
For invitations that will help set the mood for the party, go beyond the standard group email or note card. Instead, buy vintage handkerchiefs, print the party details on sticker paper, and iron the message onto the hankies. Other cool invitation ideas include lace-wrapped cards, undies with the party details screen printed on the bum or Polaroid photos. Invitations can be created for bachelorette party invitations or design your own at Canva Studio
Location Ideas
If your bestie is tired of the "Viva Las Vegas" theme, try a less traditional location. Reserve an Airbnb with plenty of bedrooms and a pool for an on-site party, or stay in a penthouse suite in a glitzy downtown hotel with lots of nearby bars. Alternatively, opt for a more remote location like a vineyard or cabin in the mountains.
Party Favors
For Insta-worthy photo ops, gift personalized party favors that also function as decorations and photo props. Buy martini glasses etched with the words "bride" or "bachelorette", silky hair ties, custom T-shirts or (temporary) tattoos. Other gift ideas that make for great photos include party pins and mugshot signs.
Must-Have Apps
It wouldn't be a party in 2020 without going app crazy. AirDrop photos, designate a shared photo album or use Google Drive or Amazon Photos to share everyone's party pics. If you decide to split dinner or drinks, use Splitwise or Venmo. For group texting, especially if some people have Android phones, go with GroupMe. And don't forget to download Uber and Lyft apps ahead of time so everyone makes it home safely. 
Bridal Gifts
One of the most exciting parts of a bachelorette party is giving the bride fun, sexy gifts. With that in mind, consider shopping for a bustier set or teddy for the bride, as well as sexy jumpsuits for the bridal party to lounge around the house in while celebrating with wine and champagne. Other bride-appropriate gift ideas include massage oil, candles or books.
Games and Activities
You can't drink 100 percent of the time (well, maybe…), so definitely plan some fun activities and icebreakers for the group. Dirty Mad Libs is a fun one, and a scavenger hunt that sends the group around town is always an oldie-but-goodie. For the thrill-seeking bride, take the group to a pole dancing class, karaoke bar or casino. If the group is all about relaxation, try a spa day, wine tasting or dinner cruise. Whatever you decide, whether it's for the car ride or partying at the house, don't forget to set the mood with a couple of really awesome playlists.
Necessities
No matter the activities planned, no bachelorette party would be complete without certain necessities. Stash an emergency kit filled with accessories like a bottle opener, pain reliever, cups and straws, tape and scissors, a Bluetooth speaker and a universal cell phone charger. Hey, it never hurts to be prepared for whatever the night brings.
Plan the Best Party Ever!
No matter the gal or the group, every bridal party deserves a lit bachelorette party. Get off on the right foot with some creative invitations and party favors, and reserve an awesome location like an Airbnb or penthouse. Then, enjoy the evening with sexy lingerie, games and fun music. It will be a party you'll never forget! 
[…]
A Step by Step Guide on How to Make Your Own Bridal Shower Invitations
This post may contain automatically and manually added affiliate links,
which means I might receive a small commission if you make a purchase using a link at no extra cost to you.