The traditional Australian cuisine mainly revolves around meat, particularly beef and lamb. While opinions may defer, in our humble one, we feel the best way to enjoy meat is to grill it, since it adds a rich flavour to meals. Not only can you barbecue at your home, but the public parks are also equipped with barbecue stations where you can prepare beef and other delicious foods.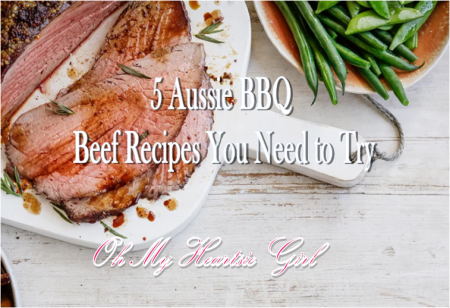 While you can add a variety of spices to meat to enhance its flavour, here are a few top Australian beef recipes to make your meals even more delicious:
Broome Beef Satays
Ingredients
1 kg beef steak
2 tbsp crushed garlic
2 lemongrass stalks, thinly slice the white part
1/3 cup soy sauce
2 tbsp onion, fine chopped
1/3 cup white sugar
2 tsp salt
2 tsp coriander, ground
2 tsp cumin, ground
For Peanut Sauce
2 tsp vegetable oil
½ onion, fine chopped
500g peanut butter
3 tsp sugar
1 tsp salt
¼ cup tomato sauce
½ cup coconut cream
1 tbsp soy sauce
Instructions
Marinate beef with all the ingredients. Mix well.
Cover the bowl with a lid and refrigerate it overnight.
Soak bamboo skewers in cold water for half an hour and then thread the marinated beef onto them.
Heat a barbecue plate. Lightly oil it and cook satay skewers for 5 minutes.
Cover with foil and set it aside.
Meanwhile, heat oil in a saucepan.
Add onions and cook for 5 minutes.
Stir in water, salt, peanut butter, tomato sauce, cream, soy sauce, and sugar. Mix well.
Spread the sauce over beef skewers and serve.
Australian Rissoles
Ingredients
1 lb beef, ground
1 cup breadcrumbs
1 onion, fine chopped
1 tbsp fresh parsley, chopped
½ tsp dried herbs
Flour
1 egg, beaten
Instructions
Mix all the ingredients, except flour.
Form small balls and flatten them.
Take flour in a bag and add 2 rissoles at a time.
Shake gently and then barbecue rissoles for 10 minutes each side.
Serve when warm!
Garlic Steaks
Ingredients
1 kg beef fillet steaks
1 bulb garlic, cloves separated, peeled and sliced
Salt and ground black pepper, for taste
Instructions
With a sharp knife, punch holes into the steak and stuff them with garlic.
Cover the bowl and refrigerate for 4 hours.
Preheat a grill pan at high heat.
Place steaks on the grill pan. Cook for 5 minutes.
Turn steaks, season with salt and pepper and cook until they are done.
Steak with Roast Sweet Potato
Ingredients
4 beef rib-eye steaks
1 kg sweet potato
3 tablespoon olive oil
½ bunch fresh thyme
Instructions
Preheat oven to 180 °C.
Line two baking trays with baking paper and spread sweet potatoes. Season with olive oil.
Bake for 40 minutes.
Meanwhile drizzle steaks with oil, salt, and black pepper and cook until they turn brown.
Serve steaks with sweet potatoes and mustard.
You should try out these easy barbecue recipes to prepare scrumptious meals in no time!