With summer holidays and Labor Day not far off, a time for getting together for a barbecues, there's always good food. Whether for family or a group, my recipe for mouth watering Rubbed BBQ Ribs has just enough kick that everyone will love it. Packed with flavor!!!
For these rubbed ribs you will have several choices to cook them. You can bake them in the oven and store in fridge, then reheat the next day on BBQ or Cook right on the BBQ or Bake in oven and eat immediately….I have made these all three ways, my favorite is to tightly cover with foil and baking in oven, these take 2 to 2 1/2 hours, eat right away. Adding sauce as you go. That way everyone can choose their favorite bbq sauce, hot or mild. If you would like a phenomenal barbecue sauce recipe check out Martha Stewart's Its slow cooking and can be stored in freezer for up to 3 months. And It Is Amazing!!!
The rib rub has a bit of a kick and can be adjusted to your liking by decreasing the amount of red cayenne pepper. I usually have enough to make ribs twice, just store in airtight jar. So this rub recipe is enough for 4 racks of ribs.
For the cut of ribs, your choice, Saint Louis style pork ribs, or baby back ribs, or spareribs, rinsed well and patted dry.

[amd-zlrecipe-recipe:13]
 Directions for Rub: To make your rub you will need to use a sieve to sift the sugar, paprika, salt cocoa, cumin, chili powder and red pepper to remove any small lumps and to blend the rub.
Preparing The Ribs: Lay out plastic wrap, large enough for your ribs to lay on and to wrap after applying the rub.
Sprinkle the rub mixture on both sides of each rack of ribs, "generously" press in to coat completely. (I wear disposable rubber gloves for this task) Cover with plastic and refrigerate for at least 20 minutes for maximum flavor and up to 2 hours or overnight.
Pre Cooking: These ribs can be cooked a day before you want to use them, place in fridge until ready to use, then place on the grill to heat through adding your own BBQ sauce. Bake in oven at 350 º for 1 1/2 to 2 hours until meat starts to pull off the bone.
Oven Method: Preheat oven to 350 º degrees. Cook ribs on racks on sheets, switching positions halfway through, until meat pulls away easily from the bones, about 1 1/2 to 2 hours, until ribs start to pull away from the bone. For best handling let rest for 10 minutes before cutting to serve.
On The BBQ: I remove the plastic and then wrap the ribs in foil, place on a large enough pan that will fit inside your BBQ to bake, taking  2-3 hours. Keep a pan of water inside the BBQ while cooking to retain moisture.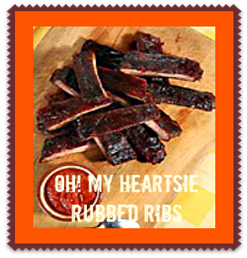 Enjoy!!
Note: My daughter made these BBQ Ribs ahead, took them camping and reheated on the grill with bbq sauce. She said, "everyone raved about them"!! We have made them many times and they always turn out perfect. You can bake them in the oven or on the BBQ wrapped in foil, then glaze with sauce over hot coals.
Related:
If you have a recipe and would like to share please feel free.