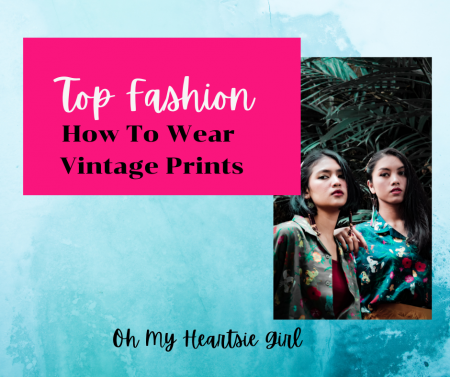 There's a good reason the vintage style continues to be one of the most feminine and fashionable styles ever. From flares and bell sleeves to shearling coats and miniskirts, the style represents an eclectic mix of fashion influences that evolved over the decades. But apart from the boho gypsy style, the clothes from this era were also distinguished by wallpaper-style block prints and colors such as beige, ochre, plum, and petroleum blue, as well as clean-cut, figure-flattering silhouettes that style icons such as Jane Birkin shaped into one of the most memorable fashion moments in history.

If you are one of those women that value this timeless, feminine style, but you don't know how to incorporate it into your everyday outfits, then read on to find out how to wear these beautiful vintage prints like a pro:

Wear it bold and wear it proud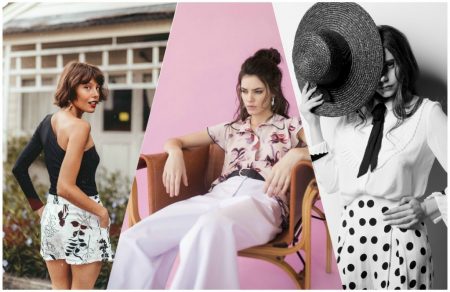 The simplest way to wear vintage prints is to wear them daringly – opt for a bold dress, jumpsuit or playsuit and pair it with very simple and basic modern shoes and accessories. This will stop your outfit from clashing and it will add an elegant touch to your look, helping you pull off the vintage vibe with style. Bold prints can also do wonders to draw the eye to areas you want to focus and away from those you don't. For example, if you are bottom heavy, opt for a block print jacket or blouse and pair it with plain bottoms, in order to shift the focus to the upper half of your body. If you are looking for a more minimalistic approach to this style, the key to pulling off repetitive patterns is to opt for classic shapes that still manage to look sharp and sophisticated. On the other hand, if you want to go all out, give these old-fashioned prints a new lease of life with modern cuts, such as patchwork, one-shoulder silhouettes, and asymmetric hemlines.

Bring the vintage style to the beach
If you want to incorporate vintage elements into your style, there's no reason why they shouldn't find their way into your outfits even when you're at the beach. Being highly feminine and looking flattering on all women, especially those with curvaceous figures, there's no wonder one-piece swimsuits are still as popular as they were in the last century. Whether you opt for modern patterns or classic vintage prints, such as gingham or polka dots, there are many ways to bring this style to the beach. You can find endless inspiration for vintage beach outfits in the sunnier parts of the world, as fashionable one-piece swimwear in Australia is the biggest trend for the upcoming season. Although the stylish Aussie girls like to offset these vintage swimsuits with modern accessories and cover-ups, you can always fully embrace the elegant vintage style and opt for a wide-brim hat and a pair of chic cat-eye sunglasses, and rock this style wherever you go. 
Color block your outfits 
Apart from bold patterns and busy prints, another distinction of the classic vintage look are carefully color-blocked outfits. If you're not brave enough to embrace loud patterns, but you want to give the vintage style a try, color blocking your outfits is a fun and vibrant way of expressing your style and your personality. It involves using 'blocks of color' to create an eye-catching look which you could achieve in several different ways. One idea is to color block monochromatically and layer different shades and tones of one color, and even mix different textures and shapes, in order to create a more dynamic look. Another way to bring this trend to life is to combine colors of the same color family with a pattern in the same hues, to tie it all together. Or, if you want to get adventurous and truly capture the vintage vibe, you could even color block your outfit with two completely contrasting tones.

Add a hint of the vintage vibe 
If you want to bring the vintage vibe into your style, but you don't feel bold enough to opt for a statement piece, a great idea might be to incorporate some loud vintage prints into your outfits in the form of funky accessories. You could go for a true '70s look and wrap a tie-dye scarf around your head or simply strap a paisley scarf around the handle of your purse, to achieve a more modern, but still vintage-inspired look. Accessorize your everyday outfits with crystal drop or big hoop earrings, cat eye or circular sunglasses or even printed handbags and high platform sandals. Remember, it's all about adapting vintage fashion items to suit your personal style. 
We've finally come to a point in time when fashion truly doesn't have any rules or boundaries. So, get inspired by these incredible ways you could incorporate vintage elements into your modern style and don't be afraid to experiment with creative layering, different textures, patterns, and materials. Have fun and enjoy your newfound vintage style.

This post may contain affiliate links and I might receive compensation if you make a purchase after clicking on a link.
Related:

Sophia
6 Swimsuit Shopping Mistakes That Women Should Avoid
5 Tips to Edit Your Wardrobe and Personalize Your Style
This post may contain automatically and manually added affiliate links,
which means I might receive a small commission if you make a purchase using a link at no extra cost to you.