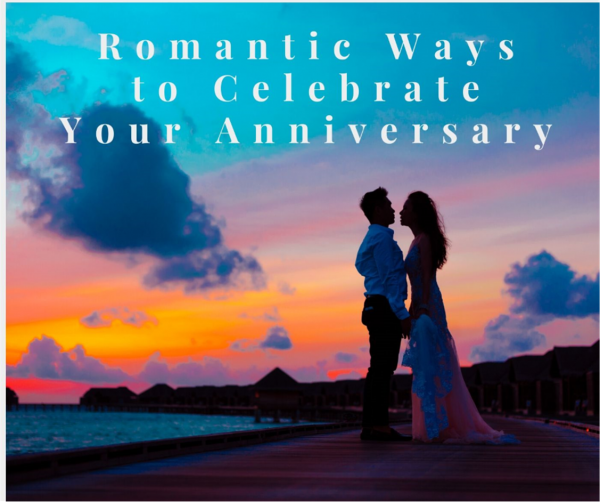 If you've got an anniversary around the corner, you may be looking for an exciting way to celebrate this milestone. Each anniversary should be a true celebration because it means the commitment you made still stands. Thankfully, according to the New York Times, the divorce rate is actually down. Nonetheless, every anniversary is a great accomplishment and should be commemorated accordingly.
It's important to show how much you care about your partner throughout the year, but make sure you also pull out all the stops for your special day. Here are a few romantic ways you can celebrate your anniversary.
Dress to impress
No matter what you end up doing, you've got to make sure you look incredible. If you and your spouse have a family now, things are probably pretty chaotic most of the time. You might just be rocking whatever's comfortable, and that's totally fine for everyday wear, but your anniversary should be different!
If you know you're going to be going somewhere nice—or even if you're just celebrating with dinner and a movie—buy yourself something that you feel amazing in. For women, consider an outfit that's simple, but chic, like a black blouse, straight-leg jeans, and brightly-colored shoes or sparkly jewelry. For men, maybe surprise your spouse with something fun, like a nice button-up shirt and fancy bow tie. Even though your spouse probably thinks you're lovely just the way you are, putting a little extra thought and effort into your look for the evening is a great way to show how much you still care.
Spice up your love life.
Marriage is a life-long partnership, and sometimes things in the bedroom can get a little stale. For your anniversary one romantic way to celebrate is by booking a private suite and whisking your loved one away for the night. If you're worried about the kids, you don't need to go very far, consider supporting a local bed and breakfast.
Although the best intimate encounters are often spontaneous, a little planning can go a long way. You don't have to be too adventurous to spice things up. Consider going online and surprising your significant other with some sexy lingerie. From adorable lace teddies to crotchless panties, you'll be able to find exactly what you're looking for on Spicy Lingerie's website. Pick something that your spouse will love and that will embolden you to have the best anniversary yet.
Go out to dinner.
If your spouse usually handles the dinner reservations, consider taking the reins this time. Check out your local culinary guide. It'll have the latest foodie news, including whether there's a new restaurant opening or a guide to delicious places that are lesser-known. If you want to get your spouse involved, just ask what style of food they'd like to eat. How fun will it be to experience a brand new restaurant together? Having new experiences can really keep the romance alive. If you're worried that the new restaurant won't live up to expectations, make sure you have your spouse's favorite ice cream parlor or bar planned for afterward.
Take a theme to the extreme.
You might have just cringed when you read the suggestion of themed anniversary date, but just keep reading and you might change your mind! The 20s, 30s, 40s, and 50s often get romanticized in movies and on TV. If your significant other has a favorite decade, run with it. Ask your spouse to dress as vintage as possible, and go out on the town.
If there's a historic bar or restaurant in your area, like the Green Mill in Chicago, grab drinks and listen to some jazz. See if there are any old movie theatres playing classic movies. If not, play a classic movie once you get back home and eat some popcorn. Record your whole night with photos, and then have them printed in an album in black and white. Your significant other will swoon at your creativity.
[…]
5 Wedding Anniversary Gifts to Win Hearts All Over Again
Birthstones and Their Meanings