You deserve a backyard that's beautiful, relaxing, secure and chic. Taking on a project like a yard remodel may seem daunting, but there are steps you can take to get toward that dream lawn. Here are a few ideas on how to get started.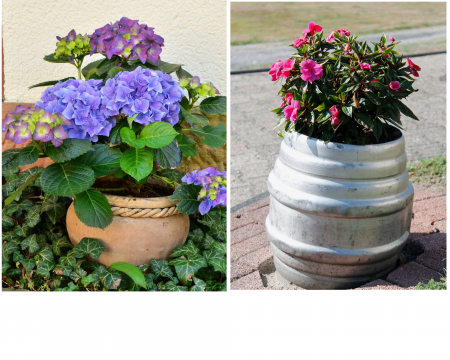 Adding Containers To Your Garden
There is always room to add containers of flowers and plants when there isn't room throughout the yard. Containers come in such beautiful colors and textures, you could even paint a Terracotta planters to add more color and interest. And you can always change up the plants as season change.
Design a Pathway With Features
Walkways are a beautiful way to set the tone of your landscaping. Besides looking great, they can drive attention to the focal point of your yard, mark a clear path through a garden or just welcome guests to explore. Before you get started, decide on the main purpose of your walkway and the material you think would best suit the vibe of your yard. With a quick online search, you may even be able to get started on your own. Remember to add a feature or two along the path, such as a bench, to make it even more special.
Add Entertainment To Your Backyard
If you are truly making your backyard an extension of your home, it's only natural that it will have areas in which to entertain. Outfitting your yard with speakers is a great way to bring ambiance to your yard. Distributing them around the area allows you to bring your favorite tunes to the outdoors, upping your enjoyment of the area even more. Plus, they can come in handy if you want to push your entertaining even further with an outdoor movie screen and projector.
Make It Comfortable For You
You can't relax in your beautiful backyard if you don't have a comfortable place to sit. Ensure that you have seats for guests, like an outdoor sofa set or dining area, but don't forget to have a special area just for you. Like to read? Create your personal reading nook with a cozy hammock chair. Need to protect yourself from the sun? Make sure you have plenty of furniture in the shady areas of your lawn or add outdoor umbrellas. Think about your needs and those of your guests, and then plan out the furniture purchases. It's worth the investment to have an area you can really appreciate.
Create Your Backyard knowing it will Stay Secure
Nothing will make you more comfortable in your backyard than having peace of mind that you and your family are secure. A security camera system can bring that to you. Lorex Technology offers solutions for homes and businesses that are as dependable as they are sleek. They won't take away from the overall look and feel of your backyard oasis, while adding the benefit of added safety. With cameras that are motion activated and have night vision, you can rest assured that all the new features in your backyard oasis are guarded. Add a couple of motion-activated lights to feel even better.

The next time you step outside, envision how your perfect backyard would look and feel. You don't have to do everything at once, so take your time to prioritize what matters most. With planning and hard work, you'll have a stylish, comfortable and safe yard for you and your family.