Many people working from home during the pandemic have found it challenging to concentrate and meet deadlines. With so many potential distractions around the house, learning how to work in a new environment hasn't been easy. However, there are a few things you can try to improve your home office setup and enhance productivity along the way.
Separate Work From Home
When working in an office, it's easy to separate the home environment and the workplace. Getting out of the office presents a clear boundary where work is no longer the number one priority. But people working from home often don't have the luxury of dividing their house in two. As a result, they find it hard to step out of the office section when the workday is over.
If your house is large enough, consider setting up the office in an unused section of the house. Lofts, for example, are a great way to expand the office setup. If renovating the loft isn't feasible due to costs, see if you can make a section of the hallway or a large room into a separate area. A little redecorating can help you refocus your workflow and productivity.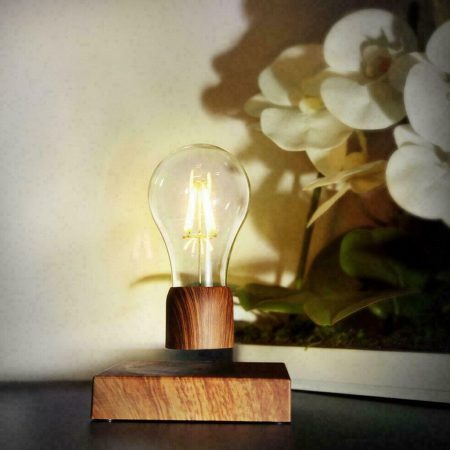 Add Proper Lighting
One of the main complaints office workers have is a lack of suitable lighting. According to some research, subtler lighting is a better option if you want to remain productive. While most offices have switched to energy-saving LEDs with cool white lights, some houses cling to older lightbulbs and warmer solutions. Having a warm glow around the house is perfectly acceptable, but it's still preferable to outfit the home office with a sufficient number of cool lights.
If you need some additional warmth, however, check out Volta from Floately. This levitating gadget disperses warm light, and lasts for years without a problem. It can be the perfect contrast for a bright ceiling-hanged LED. Using modern pieces like a levitating gadget can also help you refocus and will improve your mood. Volta is a powerful LED designed to look like a traditional lightbulb, saving energy in the long run.
Spruce Up the Desk With Greenery
A clean desk might provide a perfect work environment when you want to focus on meeting a deadline. However, such a workspace can look dull after a while, especially if everything is in a similar hue. If you don't want to replace furniture with more colorful alternatives, adding some plants can be the best way to go.
You don't need a large pot with a ficus in the home office. Focus on small plants and pots that won't interfere with your necessary work equipment. For example, the Airsai rotating plant pot from Floately is an excellent, unintrusive option. The plant levitates a few inches above the stand and is secure enough to stay in place if something gets between the pot and the table. One of the benefits of an automatic rotating plant pot is that it allows the plant to absorb light from all sides during the day. This will optimize its growth pattern and prevent it from growing lopsided towards the sun.
Don't Forget to Take Breaks
At the office, the day is much more structured. There's a specific schedule for worktime and breaks. A home office setting can disrupt that schedule significantly. People might be more inclined to work without stopping to get more free time later in the day.
Taking a few breaks during the workday can improve your focus and productivity in the long run. Space the breaks according to how you're feeling at the time. More productive work might need fewer breaks than a day interspersed with distractions. During a break, enjoy the scenery, take some time to look out of the window, or get out of the chair to stretch your legs. Desk decoration like a levitating gadget from Floately can be a useful tool to help you refocus after these periods.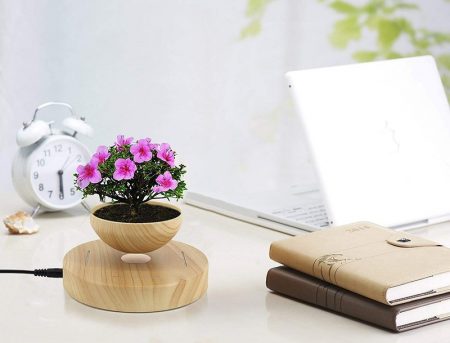 Get Enough Water and Sleep
The links between water intake and sleep on cognitive performance are well-documented in popular media and scientific studies. Don't forget to take plenty of water during the day. The U.S. Institute of Medicine of the National Academies recommends about 3.7 liters (130 ounces) daily for men and 2.7 liters (70 ounces) for women. About 20-30% of that will be from food, and the rest will be from drinks like coffee, tea, or just plain old water.
Sleep is equally important, and it's been shown that a single sleepless night can have negative results for days or weeks at a time. Keeping a consistent sleeping schedule, and more importantly, avoiding all-nighters, can increase overall productivity and even help you lose some weight and improve your long-term mood.
Working from home can be more challenging than the actual work projects you undertake. That's why it's important to give yourself the best productivity-enhancing décor and manage your sleep schedule. If you want more ideas on how to make your home office more dynamic, for more levitating gadget models check out: www.floately.com

Facebook Floately
Floately Twitter
Instagram Floately

Volta, the innovative levitating light from the levitation scientists at Floately, is a chic and minimalist levitating bulb that fits any décor style"
Floately