It is good news that inclusive sizes are now available in different fashion stores. For a small detail, it may be a small win for women to see such acceptance that plus-size can be fashionable and beautiful. It makes the world a little better to know that women can now empower themselves through their choices and style, primarily through these body shapers.
But even though there is a wide range of plus-size shapewear around you, you should be meticulous in choosing what is best for you. Here are the tips for buying your body shaper.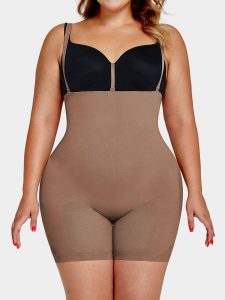 Your Body Knowledge
It is not enough to know what you want for your bodysuit. Yes, you may have this idea on what your shaper should look like and what color it must be, but it would always be best if you knew your body well first.
This knowledge should involve your measurement, your weak points, and even your allergies, if ever you have one. In this way, you can choose the one with a piece of good fabric that fits your size.
 Plus Size Lycra® High Waist Booty Sculptor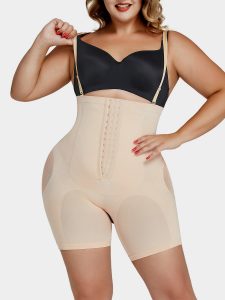 Limit Awareness
Fashion ideas are limitless, but to enjoy the fullness of this freedom, you must be aware of your limits. For instance, it is best to know that not all best shapewear for women is best for you, so to land on the safe body shaper, go for the ones with adjustable hooks for your convenience. These hooks go for when you are not okay with the tightness; you can always downgrade to the lower row.                                                                                                                                             Plus Size Tummy-Control Body Shaper Shorts
If your intention for wearing a piece of shapewear is to have a fashion upgrade, this Plus-size lace full-body shaper is your best choice. It can turn your shy vibe into a complete 360-degree turn to elevate your style and glamour.
The lace always does the trick to display the elegance of your undergarment, and the cool designs are an excellent addition to the whole ensemble.
This body shaper is friendly because it goes smoothly with your figure.
Plus Size Lace Full Body Shapewear
DuraFits offer many shapewear pieces for you to enjoy, but as mentioned above, there is always the best one for you. Go for the one in straightforward design to get a sure win on your search for the right body shaper. You could never go wrong with a plain and smooth bodysuit.
This Lycra bodysuit, for example, can fit perfectly to any plus size regardless of the butt shape and the bust size.
 Plus Size Lycra® Shaping Bodysuit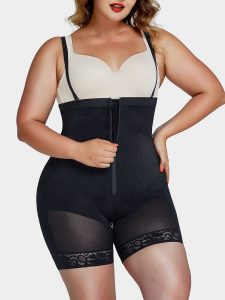 An Easy Thing
It will be a win-win situation for your body and your fashion when you get a bodysuit that is easy to wash and easy to wear. In this way, you can enjoy it for a longer time, and it will give you a hassle-free experience with whatever outfit you want to nail every day.
Choosing the best body shaper does not mean you negate inclusivity essence. It is more like making the wise choice to make full use of your money and to ensure that you will be fashionable to the next level.
 Removable Straps Shaping Shorts Plus Size
[…]
5 Plus-Size Fashion Myths and Misconceptions, Debunked
Inspiring Women Plus Size Clothing Style Worth Knowing