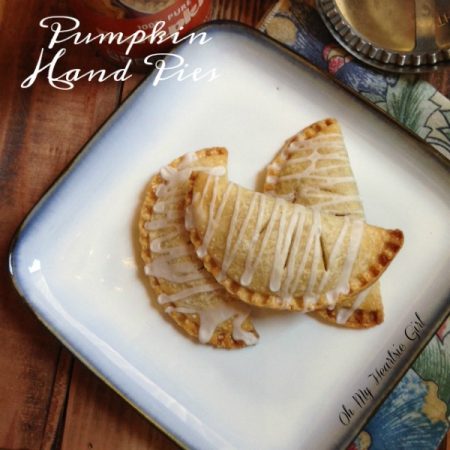 I have a supply of pumpkin I bought on sale and need to use it before this year's supply is available and I was in the mood to bake for my grandson, really I don't need an excuse but he loves my goodies and is always ready and because he likes toaster pastries and since we all know they have ingredients that are not so healthy for us, I went in search for recipes similar to toaster pastries to make. He kept talking about squash and pumpkin so this is perfect.
I used the store-bought pie pastry from Pillsbury, which means faster to the finish and just the right thickness. These were easy to make and taste great, their small and just right to hold for eating. It could be used in school lunch and could change up the filling for fruit filling, sugar-free jam, or fresh fruit compote thicken with a bit of cornstarch and sugar.
Ingredients
For the Filling:
1 1/3 cup pumpkin puree
1/4 cup evaporated milk
1 egg, beaten
1/3 cup packed brown sugar
1 teaspoon pumpkin pie spice
1/2 teaspoon vanilla extract
1/4 teaspoon salt
2 Ready Made Pie Crusts
Icing:
I cup powder sugar sifted
2 tbsp milk
1/2 tsp. vanilla
Instructions
Make the filling stirring all ingredients together in no special order.
Pour into a oven proof dish or pan and bake in oven at 400* for 15-20 minutes until a custard like consistency. Remove from oven and cool.
Reduce temperature to 350*
I smoothed the pie crusts and cut into circles using a cutter the size of a large tuna can. I actually used a Pampered Chefs Pie cutter-crimper.
I was able to make about 14 using the remainder of crust and re-rolling and cutting until I used up all the pie crust.
When the filling was cool I placed about a heaping tablespoon of filling in the center of the circle, folded over and crimped the edges. If you dont have a crimper you can use a fork to seal the edges.
Place on parchment paper to bake for 25 minutes at 350*
Let cool on wire racks.
To make icing combine the 3 ingredients until smooth
Drizzle with icing and cool.
Once completely cooled, I placed mine in a tight fitting container, layering with parchment paper.
These are so good and you can serve these with whipped cream or just by themselves. Delicious!
https://ohmyheartsiegirl.com/pumpkin-hand-pies/
For the ingredients for the filling, I used the recipe from Center Cut Cook The filling is pre-cooked before going into the pastry so it is easy to handle. I might add it is not as sweet as a pumpkin pie filling, which is also a good thing as I'm not a fan of sweet filling and many times I reduce the amount of sugar in a recipe. And to make my task even easier I use the Pampered Chef pie cutter and crimper I have had for over 20 years and never used, lol So now the recipe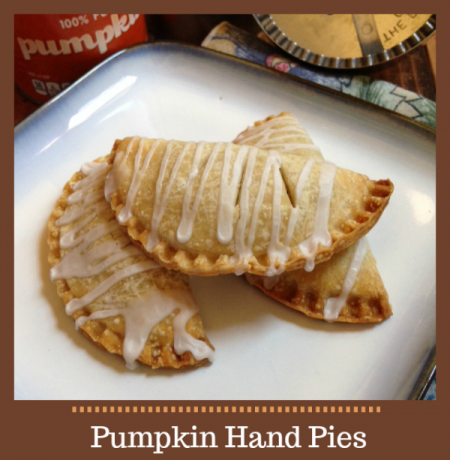 If you need to make the crust here is the simple recipe.
2½ cups all-purpose flour

½ tsp table salt

1 cup salted butter, diced and chilled

½ cup very cold ice water

1 egg, beaten with 2 tsp water (for egg wash)

coarse sugar for sprinkling
Make the Dough: In a large bowl, whisk together flour and salt. Using a pastry cutter, cut in the diced cold butter until mixture resembles coarse crumbs, with small chunks of butter still visible. One tablespoon at a time, add ice water to the mixture until it holds together. It should stick together when pinched but not feel sticky. Work dough sparingly with cold fingers or pastry cutter, but do not overwork the dough. Form 2 dough balls, wrap in plastic and chill at least 1 hour. Original Recipe from Once Upon A Recipe
My Recipes was Featured on Create With Joy with her Pumpkin Spice Muffins
I might receive compensation if you make a purchase after clicking an affiliate link at no cost to you.

Bulu Box 3 Month Subscription

[…]