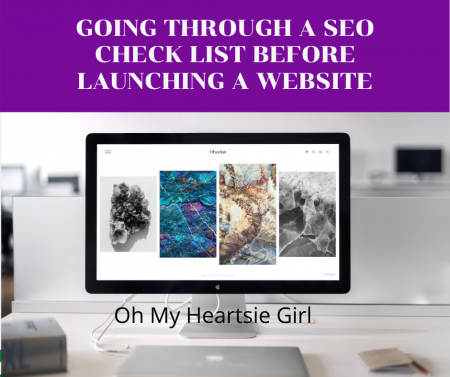 It's the fortnight before that long-awaited launch of your website. Your baby is all set to hatch. But hold on for a few things before you press that "Launch" button. Firstly, ensure a reliable internet connection for your business such as the one from spectrum internet plans to make website maintenance activity easier. Secondly, SEO is going to help you with the long-term achievement of your goals in terms of search engine rankings. You have worked day-in, day-out to ensure the perfect development of your website. Since it gets very tedious having to design another website right after the launch of the first one, make sure to check these SEO considerations off your list before going live to the world.
Go through this quick SEO checklist below before hitting the Launch button:
URL Structure, Page Title, and Meta Description
Overly complicated URL structures do not just push the keyword away from the main body of URL but also make it less user-friendly and reduce share-ability.
www.example-domain.com/category-keyword/subcategory-keyword
OR
www.example-domain.com/category/post-title
URL plays an important role in telling humans and the search engines what the landing page is about, therefore, always keep it short and precise.  
Keyword-URL Consolidation
Create a list of high-ranking keywords and sort them in a way that they relate to a certain page. Assign at least one keyword to each page and then, map those keywords to the entire website and URLs. Try including them in the first and second part of your URL, and in addition to this, incorporate them in meta-titles and meta-descriptions to ensure complete on-page optimization.
Speed Optimization
Page-speed directly relates to bounce rates, which ultimately affect page rankings on Google. With increased internet speeds and growing optimizations, the patience levels among users, especially millennial's, are dropping drastically. Considering the changing psychology of the target market, it becomes inevitable to ensure a reduced page load time on all platforms.
Page Responsiveness
Some websites simply fail to serve their purpose just because they don't respond or adjust to different screen sizes. With the growing use of mobile phone technology, almost every other person surfing the internet is using a smartphone instead of a desktop.

So when it comes to website development, checking for page responsiveness on different screen sizes is absolutely necessary.
Website Schema
Schema markup allows search engines to present more informative and relevant search results to the users. It makes the search engine understand what the data actually means and not just what it appears to say. For example, a name in an Article like "Jeff Clarkson" with the right schema markup will tell the search engine that Jeff is the author of this article and not just a random part of the content.
Check for Duplication's
Duplication's do more harm than good to a website. Never make this mistake out of laziness. There are several tools available online to help you fix duplication's. Google has set algorithms to penalize any website that is guilty of plagiarism. Make sure your website has fresh content for the user, which adds value to them in one way or another. Users do not want to waste their time reading the same content that is available on other platforms. So, make sure to go that extra mile to provide users with a worthwhile experience.
Run your website through an SEO Audit tool
Check your site's launch-ability and visibility in the search results through numerous good SEO Audit Tools with most of their features available for free.
Analyze the website and see what recommendations you can implement to instantly boost the visibility of your website in search results.
Summing Up
When you are done making sure that all loopholes are filled perfectly, don't forget to set up a few tools around your website to increase its crawl-ability so it can rank in search results. Tools like, Web Analytics, Uptime Tracking, Retargeting and remarketing, Brand alerts, Google Search Console, Moz, SEMRush, and social profiles help you analyze your website's performance on a daily basis. So, evaluate your website regularly and keep it updated at all times to serve your audience with the latest news and events.
If you have recommendations and see anything missing from the list, don't forget to leave them in the comments. We'd love to have a chat about them and their active utilization.
[…]
How to Add the Power of Instagram to Your WordPress Website without Knowing Coding
5 Reasons To Start Your Blog On The WordPress Platform
This post may contain automatically and manually added affiliate links,
which means I might receive a small commission if you make a purchase using a link at no extra cost to you.