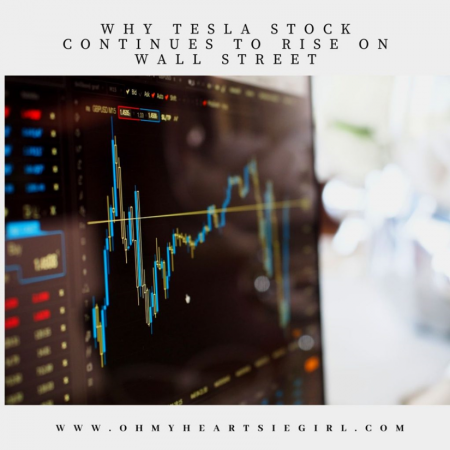 The first quarter of 2020 has seen some volatile activity in the way market trends are swinging back and forth. But there are a few companies who seem to be almost immune to the peaks and valleys that are showing up more frequently than ever on Wall Street these days. One such company, Tesla, is currently on its 7th-session winning streak on the market.
The stock market has seen huge disruptions due to COVID-19, but Tesla remains in a great position to bounce back stronger than ever once the crisis is behind us. As of April 14th, 2020, Tesla stocks were up by 56%.
Tesla's Wall Street Activity
Even Wall Street veterans are cautious about Tesla's continual rise in value across its shares. This is largely due to the fact that Tesla is an international company, with production facilities in countries that are allowing businesses to re-open amid virus concerns. One such factory in Shanghai, which is actually being defined as a gigafactory, has been reopened. If you're loving all this news about wall street, you should visit Sam Shiah Wall Street online prep course to learn more about how you can get in on the action.
Tesla is going through what financial pros call "wildly speculative trading", and it is becoming harder and harder to predict what's going to happen to Tesla day after day. In fact, they reached almost $1,000 per share at one point before their stock prices went back down a little bit. But consistently, Tesla has been on the rise.
Tesla Got Short Squeezed
Since Tesla had such a stellar quarter at the end of last year, it boosted them well into 2020, which is clearly reflected by rising stock prices. Every financial analyst on top of the company also predicted an even bigger increase in prices, causing a short squeeze. Suddenly, everyone was buying back their shares, but this only increased the demand for Tesla stock.
Because of this short squeeze, Tesla shares rose higher in value because of the higher demand coupled with less availability. This doesn't mean that Tesla is without concerns, however.
Due to the coronavirus, it is possible that the planned release of the new Model 3 will be delayed across several countries, which financial analysts are suspecting will cause a bit of a downturn in stock prices. But as of right now, shares are still rising in value.
Thank Credit Suisse
The Wall Street Journal notes that Credit Suisse is responsible for Tesla's rise in stock popularity despite the unavoidable crash caused by COVID-19. Credit Suisse offered Tesla a big of an upgrade, putting the company in a much better place to emerge from the global pandemic unscathed when compared with other auto manufacturers.
These are the latest gains in Tesla's Wall Street activity, putting rising stock prices at that magical 56%.
Should You Invest in Tesla Stock?
With the market as volatile as it is right now, it's difficult to say whether an investment in Tesla will do you good in both the short-term or the long-term. In fact, this is such a popular question that, when typing "Should I" into Google, one of the autocompleted answers comes up as, "Should I sell Tesla stock?".
As of right now, it's clear that Tesla is on a hot streak, and it might be a good idea to get in on the game. Despite the murky waters the Wall Street market has found itself in, there are companies like Tesla that are still finding success and finding ways to rise in value and popularity.