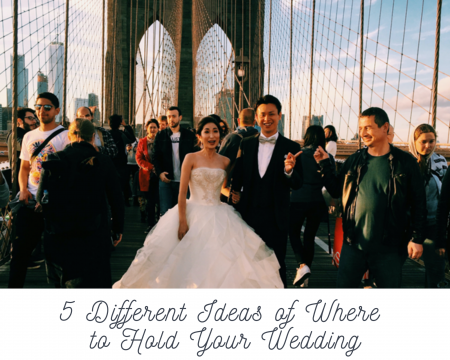 Planning a wedding is an exciting journey, and choosing the place where you'll hold your wedding is one of the most important steps you'll take. With couples getting more creative with places to say the fateful yes, it's safe to say that there's no shortage of amazing wedding venue ideas. If you yourself are looking for a creative option that stands out, here are five different ideas to inspire you.
A rooftop venue
This type of venue is the perfect choice for couples who want their wedding venue to raise the bar and create a unique experience for their guests. A rooftop venue offers an unparalleled view for the couple and the guests to enjoy minus the noise of the urban setting. The breathtaking city skyline allows you to capture truly amazing wedding photographs, especially if your wedding takes place during sunset. And when the time comes to hit the dancefloor and show off your dance moves, you'll literally feel like you're on top of the world.
Rooftop venues are also a good option for couples who want to keep their guest list short and their wedding intimate. Because this is an outdoor wedding venue, you'll also need to factor in the weather. This may not be the problem for couples from places with mild and pleasant climate such as Australia where weddings often take place outdoors. But generally speaking, weather is definitely something to keep in mind if you choose a rooftop venue.
A festival-like site
Speaking of outdoor wedding venues, some brides and grooms may see themselves spending the most magical day of their life at a venue that has an open-air festival vibe to it. If this sounds like something you'd like for your special day, look for boho-chic locations in your area. The surrounding nature will serve as the perfect backdrop and provide you with organic, natural decor. Draw inspiration from music festivals such as Lollapalooza, and set up yurts and tents all over the site. Rely on food trucks for food and add fire pits to create a more intimate feel. Don't forget music!
To take things a step further, do what one California couple did. They took their guests to Coachella and had an amazing, intimate wedding with a couple of close friends. Everything's already there and set up – the only thing you and your guests need to do is show up!
A vintage style wedding venue
Some couples have a unique style and envision their dream wedding in a venue reminiscent of the bygone era. For those who like keeping things old-fashioned, a vintage style wedding venue could be just what they're looking for.
These venues are particularly popular in Australia because of the design that's more on the classic side. Because they're quite spacious, they're more suitable for larger weddings. Couples from Australia or those who plan to have a destination wedding there often research the most popular Sydney wedding venues in hopes of finding a venue that speaks to them. Whether you're into 1920s New York Style or prefer the look of a ballroom, when it comes to Australian wedding venues, there's definitely something for everyone.
An Airbnb
Airbnb is something we hear a lot these days in the context of traveling, but did you know that it can also serve as a wedding venue? Ideal for destination weddings, Airbnb offers an amazing opportunity to host your once-in-a-lifetime celebration and provide lodging for your guests at the same time.
There are a lot of great Airbnb wedding venues across the U.S., but you can also find them in Bali, Panama, Costa Rica, and Tuscany. While the costs vary, Airbnb venues are often cheaper compared to traditional venues. Depending on how long you're renting it, you can keep your wedding party going for days. Just like any other venue, you'll need to book one in advance – the earlier, the better.
A yacht or a boat
If you feel like taking your wedding guests on a ride of a lifetime, consider holding your wedding on a yacht or a boat. Just imagine – saying your vows on the water, at sunset, surrounded by the amazing skyline view and harbor – it's quite a memorable affair, to say the least. Be it a magical Sydney Harbour cruise or a beautiful San Diego sailboat cruise, water weddings make for stunning nautical events that are equally unforgettable for both the couple and the guests.
Depending on your wedding guest list and budget, you can hire a luxury liner, a catamaran, a paddle steamer, or a private yacht or a boat. If you feel like a boat or a yacht wedding is right for you, there's no reason not to make this off-the-beaten-path venue option a part of your big day.
Wrapping up
Selecting the right wedding venue is an essential step in the wedding planning process. With so many beautiful options across the country and around the globe, we're sure you'll find something that speaks to you and celebrate your special day in the most magical, unique way.