Welcome To The Friday Feature Linky Party
There were so many wonderful posts centered around St Patrick's and a Bit O'The Green in our Wordless Wednesday I wanted to highlight a few for you. Everything from Free Printable, wonderful recipes, craft projects Oh and Dont Forget
The Luck Of The Irish Giveaway!!!
Which is your favorite part of St. Patrick's?

From Life Anchored Lani share her printable bottle labels and how cute they are!!

Also from Lani her St. Patrick's Day treats, also known as Leprechaun Bait Life Anchored
I found this Irish Cream recipe on Growing Up Gable, so festive!!
Zipper Head Creations
So who doesn't love a FREE printable? Well it looks like you "Got Luck". Here's your chance to download a cute shamrock for St. Patrick's Day to add to your holiday décor!
From Simply Darling With St. Patrick's Day is just around the corner which means one thing – green food everything! Kendra is sharing a festive green drink with you today that is easy to make and fun to enjoy. They would be great for a party as well!
From A Little Bit Of Everything, these cute shamrock pins that she crochet and then added a pin but could be attached to a Dollar Store barrette!!
Quote: Who loves appetizer food? Me! What about a cheesy jalapeno popper? Sounds good right? Now imagine all those cheesy jalapeno flavors mixed with creamy shredded chicken, rolled up into a crispy baked taquito and drizzled with an avocado cilantro ranch sauce. Are you drooling, because I am! But wait, there's more…. that delicious taquito filling… it's cooked in your slow cooker! The Chunky Chef

I felt this was a nice tablescape with lots of green, I love the dishes she has used!The bunny is cute too!!!  Southern Seazons

This party is just fun add any links and please tell your friends so our party grows and if you have a chance please follow me. Comments warm my heart, I value each one! Thanks for stopping by, I will be by to see you soon!!
~♣~ Karren Oh My Heartsie Girl ~♣~
TWITTER | FACEBOOK | PINTEREST | GOOGLE+ | BLOGLOVIN | INSTAGRAM
This party only has a few guidelines
~♣~ Follow The Host Social Media
~♣~ Please only post 2 Links
~♣~ When you leave a comment, we will visit and do the same.
~♣~ Visit a couple of links
Sharing with your friends grows our party, either on FB, Twitter or Google+
~♣~ We love all your links and want to see what you have to share, so Lets Party!!!

Do you celebrate St. Patrick's Day in a special way?

When you add your link to the linky party along with your email, it will be used to send you a weekly email only used for the invitation to join us for Wordless Wednesday and gives Oh My Heartsie Girl blog permission to share your posts, pictures and links if chosen, in upcoming posts. Any content used will have proper credit and Link backs will be provided.Thank you, Karren
Dont forget The Luck Of The Irish Giveaway and a Chance To Win $500.00″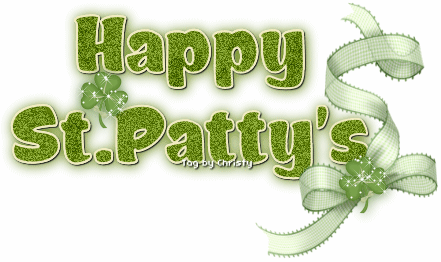 glitter-graphics.com