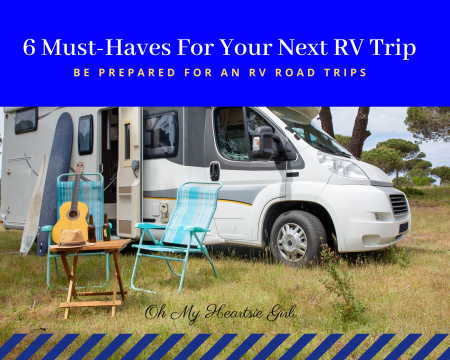 Road trips are one of the most fun ways to travel and using an RV is one of the best road tripping options out there. A giant home on wheels, you have everything you need at your fingertips, yet can cruise from one location to the next with no effort and a small budget. We've put together a list of must-haves to keep in your camper for a comfortable journey. Check them out below.
A Generator
Hitting all the most Instagrammable spots is useless if your phone is dead. Keep your power maxed out at all times with a generator. Whilst your RV's power can be used when the engine is running, you'll kill the vehicle's battery pretty quick if you're using it when the engine is off. Having a generator means you have access to a whole load of power for your portable grill, chargers, and any lights you want. Opt for a generator like the ac200 max bluetti which can be recharged with solar (hello helping the environment!) and has a whopping 16 power outlets so you can run all of your electrical goods at once!
A First Aid Kit
This one should be a no-brainer, however, it's surprising how many people forget to bring a full kit. It is especially important if you're visiting backroads or far-flung locations that may have limited stores or dangerous environments such as jungles or forests. Ensure you at least have band-aids, scissors, bandages, antiseptic (and lots of it) painkillers, disposable gloves, cleaning wipes, eye dressings, and tweezers. The last thing you want is an infected cut that turns nasty, simply because it wasn't correctly treated when the injury took place.
Wheel Levellers And Blocks
The bigger your vehicle, the more necessary these are. Add wheel blocks under your wheels to stop your RV from rolling away because who wants to wake up in the dead of night 200 feet from where you parked? Use wheel levelers if you're parking on uneven ground to give you a good, solid platform and prevent all of your stuff from sliding off slanted counters.
Cleaning Gear
Living in a small space means that the area is likely to get messy – and quick! Spending the day exploring mountains, caves or waterfalls is super fun but you'll be grubby, your feet will be filthy and all of that crap is going to end up back in your RV. Having some dirt between your toes is part of the nomadic lifestyle sure, but it doesn't mean all hygiene standards have to slip. Keep some cleaning products handy at all times to keep your space feeling and smelling fresh enough to live comfortably in. At the very least some disinfectant and a dustpan and brush will do!
Vehicle Emergency Kit
Most small issues with your RV can be fixed by you – so long as you have a decent emergency roadside kit. Tools to help you with a puncture, high-vis vests, and jump leads are essentials, but you can use an online guide for a full list of necessities.
Are you heading off on an RV road trip this year? Let us know your must-haves in the comments to help out other travelers.
[…]
Traveling by RV or Travel Trailers On The Backroads
This post may contain affiliate links and I might receive compensation if you make a purchase after clicking on a link.