With the summer finally coming around, why not turn your garden into your very own al fresco living area? Grab the table and chairs, perhaps a sun umbrella and spend the afternoons lounging about. Keep reading for advice on how to create an al fresco living area in your garden.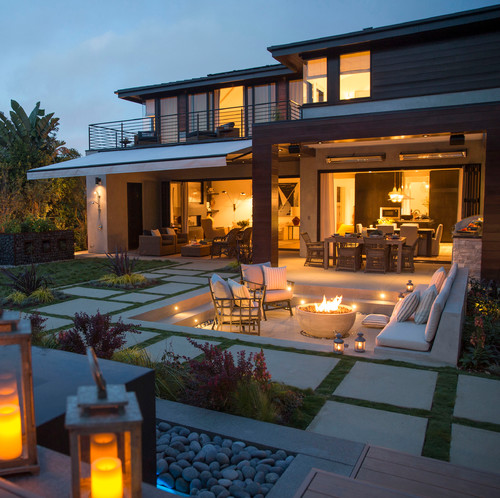 Purpose and cost
Before doing anything, think about what you want your outdoor space to be used for in order to plan properly. Are you looking for somewhere to relax, somewhere to entertain or host dinner parties? Once you know exactly what you want your space to be used for you can start to plan in more detail.
It's easy to throw money at projects like these but remember that it's really not necessary. With second-hand or repurposed items you can create a beautiful area without having to break the bank!
Layout and surroundings
Designing your outdoor space is no different than planning the inside of a house. Consider where everything is going to be in relation to each other and ensure that above all else, it's functional. If you have a beautiful field towards the back of your garden perhaps you'd want to arrange the furniture so you can look at it while dining, for example.
Speaking of nature, remember to think about the weather when designing. Something like an umbrella is multi-functional whether it's raining or scorching hot and a good option if you have children to think about. Likewise, outdoor heaters may be necessary in the colder evening to ensure comfort.
Décor
If you're looking to impress, the way you set up your al fresco area will have a huge impact on both the comfort and the general ambience of your space.
One of the best things about outdoor dining areas is that you can make use of all types of outdoor lights.  Lighting is functional in that it allows meal prep to be performed outside even when the sun is setting, but it also adds something visual. Lighting could brighten any steps or hilly areas within the garden for safety and aesthetic reasons. Larger lights are also a great alternative to a fire if that isn't something you want or can have in your living area.
Furniture
This can come under the umbrella of décor but also deserves its own section. In the same way that the sofas and chairs in your living room are plastered with cushions and blankets, outdoor furniture should be given the same care and attention. Comfort is more important than ever when dining outside.
Speaking of furniture, one way to reduce costs is to choose furniture that can also be used indoors. If you don't have the space, however, ensure that you weatherproof your furniture, or invest in waterproof covers for your furniture, to ensure it won't be ruined.
Overall, there are so many directions you can go down when creating an al fresco living area in your garden. With all of these ideas in mind, you will now have a better idea of where to start with planning your new alfresco area. Good luck with creating the functional dining area of your dreams.
[…]
7 Pro-Tips To Give Your Small Patio a Gorgeous Makeover
Turn Your Backyard Into a Posh Retreat