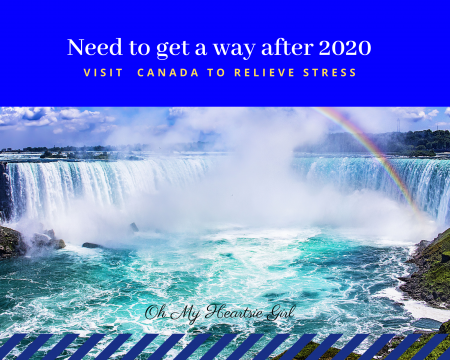 Life has to be balanced. You can't be all work, or all study, and skip having fun even just for a little while. This can lead to overwhelming stress, which isn't really a positive thing to collect for your body.
Because of this, you should definitely consider unwinding. A regular day out will do, but of course, nothing will beat going to Canada and its magnificent spots. No matter the time of the year, the country always has festivals in line. Its natural sights are also to die for. These are just some of the reasons why it's worth visiting or even living in Canada.
Going back, here are some of the best spots to visit in Canada to relieve stress:
Vancouver
The first on our list is Vancouver. This is probably the most popular city in Canada since the city itself is already a tourist spot.
With a lot of activities and views to offer, you won't have to worry about running out of things to do in Vancouver. These include several natural parks like Stanley Park, Granville Island, VanDusen Botanical Garden, and the Vancouver Aquarium, all of which are popular among the country's visitors.
In addition to the ones said above, you should also try out Canada's local cuisines and culture through the neighboring restaurants and museums in the city.
Easily said, you shouldn't end your trip in Canada without traveling to Vancouver. It will surely drain you out of your energy, especially if you plan on seeking every single tourist spot in the city, but it's absolutely worth it.
Niagara Falls
The Niagara Falls is also a renowned tourist spot, not just in the country but in the whole world. You will be able to see the majestic falls continuously flowing down the streams of Canada. It's also near the border of New York in the United States, which makes it a much more interesting spot for sightseeing.
Restaurants and souvenir shops also flood the spot. This adds a lot of value and activities to the place. You should definitely stop by to get some items to make your trip more memorable.
If you want to fully experience Niagara Falls, then you can also consider participating in a boat tour or a whole cruise. This will let you see the natural art in a nearer view.
Old Quebec, Quebec
What's a trip to Canada without seeing even just a glimpse of Quebec? This will bring you back to the old times through the old cobblestone walls and floors, history-filled establishments, and Canada's heritage as a whole.
Old Quebec is probably one of the best places if you just want a peaceful experience in the country. No matter if you're alone or you're visiting Canada with friends, you'll surely find yourself having a good time in the safe and fresh air offered by the city.
Inside the said spot, you can go museum hopping, try out the city's local food, and even go ziplining.
St. John's Signal Hill, Newfoundland
St John's Signal Hill is another historic site located in Newfoundland, Canada. This comes with a museum and a vast landscape park, which makes it best for relaxation and simply enjoying a slow-paced visit to the country. It's also best for having romantic dates because of a majestic view of the mountain, especially at night.
This may come with limited activities but is still worth going to if you don't like engaging too much in physical activities like zip lines and tours.
Bay Of Fundy, New Brunswick
Lastly, we have the Bay of Fundy in New Brunswick. While the previous one is for chill tourists, this particular spot is best for those who are constantly seeking for new and heavy adventures in Canada.
In here, you will be able to do water-based activities like watching whales, kayaking, scuba diving, and rafting. At the same time, they also offer land-based ones like bird watching, backpacking, hiking, golfing, and a lot more. Environment lovers will also find this perfect for their taste.
Summary
Safe to say, Canada is a country filled with several tourist spots. This is true since simply watching the sunrise and then set becomes popular in the country. Even locals get amazed by their own sights every time, so what more in the eyes of a tourist like you.
Note that both visiting and migrating to the said country require a visa and a few other travel documents. If you need help in processing them, then we recommend reaching out to Total Law Canadian immigration lawyers. They can help you build up everything that you need to get your application approved.
[..]
A Comprehensive Guide to AARP Discounts and Benefits