Image Source: Unsplash
Diamonds are a girl's best friend, at least that's what De Beers say, and their mega-successful marketing campaign that started in the 1940s sure has made a mark on the world. Diamond jewellery is something every woman loves. When you are looking to acquire a special piece, the custom jeweller is the person to contact.
Here are a few tips to help you get the most out of creating custom diamond jewellery.
Certification – Every diamond should have a GIA Certificate (or equivalent governing body) that list the properties of the stone, which is a guarantee that the diamond is natural. Diamonds are an investment, which is one of the reasons these alluring gemstones are so popular. Of course, a diamond can only be appraised after the cutting and polishing process and the jewellery-maker handles certification, which is presented with the finished piece of jewellery.
Decide On A Budget – The second question a jewellery maker will ask is, 'what is your budget?' You should already have an idea how much you wish to spend. Take a look at the blue diamond engagement rings Australia or your country's top jewellers offer. Have a look at their completed hand-made pieces to get an idea of what is possible. If you are on the hunt for the perfect diamond engagement ring and you want to match with the wedding band, the custom jeweller can help you choose loose, uncut stones for the basis for the design.
Don't Settle For Second Best – If you are about to become engaged, the ring is a symbol of your love and anything other than custom solutions should not be on the table; if ever there was a time to personalise jewellery, this would be it. The custom jeweller specialises in diamond engagement ring and whether you prefer something Art Deco or a traditional diamond solitaire, the jeweller can start by showing you some images, and the design starts there.
Buy Wholesale – Forget buying loose gemstones from a retail jeweller; prices are high, whereas if you approach the bespoke jewellery maker, you get access to the best quality diamonds at wholesale prices. You may want to check with a diamond wholesaler Melbourne jewellers get their precious stones from. Apart from professional advice, the expert jeweller can picture the cut when looking at a raw diamond, and how big you go depends on your budget. Pink Argyle diamonds are popular choices for engagement rings and a top custom jeweller would often have them in stock.
Maximise The Sparkle – The cut is the important aspect when it comes to a diamond's sparkle factor, and there's no one better qualified to advise you than the bespoke jeweller. Whether the Brilliant Round or the Empress Cut, the diamond's properties matter when selecting a cut.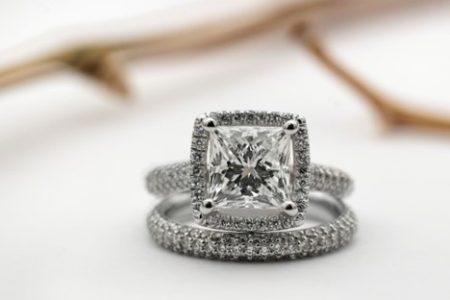 Image Source: Unsplash
It might be a diamond engagement, wedding or eternity ring; whatever the occasion, personalized jewellery is the best way to create the ultimate ring with a special meaning. It would be something to treasure for the rest of your life. Start with a Google search to find a custom jeweler in your location and take the first step toward the perfect diamond engagement ring.
[…]
Related:
Keeping Your Silver Jewellery In Excellent Condition
Ways to Introduce Engagement Rings