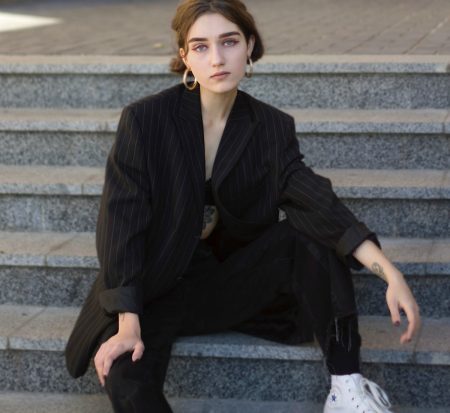 Apart from knowledge and professional expertise, a female entrepreneur is always expected to have an impeccable fashion style as well, which often puts women under a lot of pressure. However, the good news is that the fashion industry is all about comfort these days, which is why top designers and brands mix elegance with sporty vibes in their collections. If that's exactly what you're looking for, you're definitely at the right place!
Here are five amazing looks for female entrepreneurs who don't want to wear heels, so check them out and enjoy!
Don't be afraid to reach for your hoodie
Yes, we know that it seems a bit silly, but you know what? This year's fashion trends are all about feeling comfy yet super confident in the clothes you're wearing, which is why a hoodie found its rightful place on our list! In fact, hoodies are everything you need – they're warm, comfortable, and stylish at the same time, and the good news is that they aren't reserved just for the lazy days. All you need to do is to match your favorite black cropped hoodie with a pair of sleek trousers (bonus points if they're silky), and pointed-toe flats. This is a match made in heaven because the polished look of your trousers will balance out the relaxed vibe of your hoodie. A cool designer bag that matches your flats is the only missing piece, so get it right now and rock your fabulous combo!
Dress up your jeans like a true fashionista
No matter what people are talking about, the only truth is that a good pair of jeans will never go out of style – even when it comes to the business environment! In case you didn't know, having style doesn't have to mean heels and dresses exclusively – it's all about matching the unmatchable and making comfort your top priority, which is why preferred styles shifted towards the iconic jeans. For example, a cool pair of boyfriend jeans is a true wardrobe staple, so don't be afraid to play around and match these with the controversial ugly sneakers everyone's been raving about these days. These are a massive hit in the industry, and the fact that they're so comfy makes them even more wanted. An ordinary V-neck T-shirt or a plain black turtleneck will be more than enough to complete this combo. So, if you're up for a simple yet effective outfit, this is the one you should go for!
Transform your couch sweats into going-out pants
Speaking of comfort, we mustn't skip the athleisure trend which is still going strong today. Of course, we aren't saying that wearing yoga pants in the business environment is desirable. We can all agree that this may be a bit too much, but guess what? Your couch sweats can be easily transformed into going-out pants, but remember that the entire combo depends on the top you'll choose. So, if you want to create a perfect balance between chic and casual, all you have to do is to pick an elegant loose-fitting button-down and pair it with your fave sweat pants. As simple as that! As for your footwear, a pair of ordinary white sneakers will do the trick and provide an extra dose of comfort, which is what every female entrepreneur needs in her life!
Half-tucked loose-fitting shirt to the rescue
As mentioned above, loose-fitting shirts are an excellent addition to any casual combo, and we can freely say that these can save the day whenever you're in a rush and have no time to think about your clothing combos. First of all, you can match such a shirt with the aforementioned boyfriend jeans and a pair of leather flats for a simple yet effective everyday outfit. On the other hand, if you're looking for something even comfier yet much more attention-grabbing, you should probably opt for a colorful pair of silky wide-leg pants (aka pajama pants). Trust us when we say that you'll absolutely adore this combo, and you know what? It's quite eye-catching at the same time, so you won't remain unnoticed wherever you show up!
A simple maxi dress is a real game-changer
Last but certainly not least, a maxi dress is another wardrobe staple every female entrepreneur should have in her wardrobe, and you are no exception. Truth be told, this garment is everything you can ask for in terms of both comfort and coverage, so give it a try if you already haven't and you'll see what we were talking about. As for prints, floral ones are always a good idea, but you won't make a mistake even if you pick a monochromatic one. A cute, thin belt will emphasize your waist and enhance your figure, whereas knee-high leather gladiator sandals will allow you to feel super stylish yet so powerful at the same time. If you ask us, that's exactly what every business lady should look for!
As you can tell, each of these five looks is beyond perfect for every female entrepreneur who doesn't want to wear heels on a daily basis. You won't make a mistake whichever you choose because these are super trendy yet so comfortable, so pick one according to your preferences and wear it today!
Related:
Top Fashion Trends for 2020
What's the Perfect Women's Spring Jacket?
How to Build an Active Lifestyle Capsule Wardrobe
This post may contain automatically and manually added affiliate links,
which means I might receive a small commission if you make a purchase using a link at no extra cost to you.