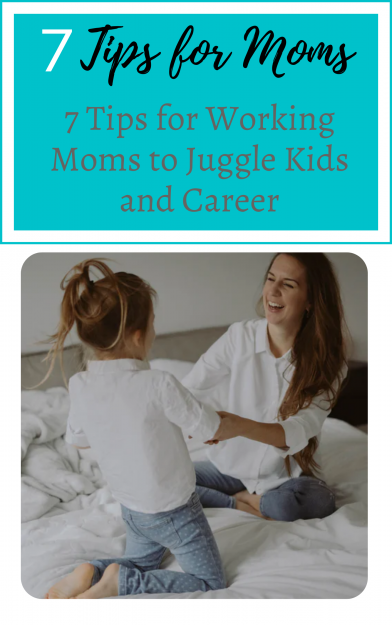 We cannot be perfect in everything that we do. No matter how much we want to, we cannot possibly give our 100%. It is quite normal yet a struggle for some. Especially for us working women who have the responsibility of their children, career, and household on our shoulders. What we can do, is find a balance; a work-life balance, which is quite similar to walking on a tightrope while holding a pole in hand with family and home on each end.
It can get stressful. A full-time mother tends to feel guilty as her attention is divided between work and family. If you want to have a successful career without sacrificing your family time, the key is to formulate a plan and stick to it. It is very important to get organized. Get your priorities in order both professional and personal. In order to do that and figure out your responsibilities, ask yourself some questions. Again, prioritize the tasks on which you cannot compromise. Are you going to be okay with some things being just good enough and not perfect? When you are able to give clear answers to these questions, you will be in a better position to make adjustments and decide what you can, and cannot do.
Listed below are 7 tips to help you out in finding the right work-life balance:
Finding the balance:
When it comes to marriage, motherhood, and a career, I'd be happy to burst this bubble that there is no perfect balance. But, you can try. Only you know what a priority is and what isn't. Remove the word SHOULD. Don't listen to people who tell you what you should or shouldn't be able to accomplish. Don't stress yourself out by telling yourself that you should be able to do a certain thing because someone else can.
What you need to do is, focus on your own needs and well-being. You should think of yourself first. If you are having a tough time finding a balance, list down everything. Observe and reevaluate. You could try re-allocation of your work duties along with your parenting duties as with the passage of time they are bound to change.
Set Time Limited and Avoid Getting Distracted:
When you are a working woman every minute counts. No matter if you are at home or on the job. Did you know that getting distracted at job leads you to waste three hours every day? And this needs to be done both when you are at home or at work. If you wish to be productive at work and stay focused, make sure that you do not waste your time scrolling down Facebook newsfeed, browsing the internet or gossiping with colleagues. Spending too much time in exchanging emails, internet surfing, and long lunches are time wasting. It also makes you less productive. It is ok to catch a short break but you have to set specific time limits regarding social media and phone usage etc. But focus on your tasks first. You can talk to your colleagues during lunchtime and coffee breaks.
Not only that, you have to be disciplined in following those time limits. When you are at home, avoid spending too much time on the TV. You can use that time to be with your children or partner. It is essential that you keep away from multi-tasking when you are with your children.
Sometimes It Is Ok To Be "Good Enough" And Not Perfect:
Do you how much energy is drained out of women while trying to be the perfect wife, mother, and a worker? You can give yourself a break. You deserve it too. Whenever you have a task ahead of you, ask yourself that does it have to be perfect or 'just done' would do too? Tell you what? At least 8 out of 10 times, a simple 'get the job done' is more than enough.
Let go of the Guilt:
As a mother and a working woman, it is natural to feel guilty about not spending time with your children. Think about how your work is helping your household or helping you even as you are pursuing something you want to do. Maybe, in the long run, you can spend more on your child's education and get them enrolled in certain classes or courses that wouldn't have been possible without the extra income? Successful career moms have found a midway to be efficient in both worlds and that, needs the acceptance of one's roles. It calls for coming to terms with the options and then focus on what is important currently.
You have to accept that you will have your share of good and bad days. Working mothers should know that they are not alone. When it gets overwhelming, share your feelings and thoughts with your partners or other working moms. Reaching out for help is a great means to achieve work-life balance.
Stay Connected with your Children:
Knowing whether your children have reached home safely or knowing that they are not wasting time on social media has been made easy with technology. You can stay connected with your children while they work at the office. You could make a video call when you are on break. For a child, seeing their mother is comforting and helps them in knowing that you are there and available for them. It could also help them get through a bad day if they are having one.
Child monitoring apps including Xnspy have proven to be a great help to working mothers. Mothers can know what their kids are doing on the internet along with their whereabouts. To control screen-time and make sure that your child doesn't waste time on his smartphone while doing homework, you can lock the device remotely even. If there is a school event you won't be able to attend or be late, do something to compensate for that. Like a small note or just make them feel valued and special. And whenever you spend time with your children, make a big deal out of it so that they can learn how important it is to spend time with your family.
Set Boundaries between Home and Work:
The way things are going nowadays, this is quite the task. Easier said than done. When we carry out most of our work with our smartphones even at work, it has become difficult to simply turn off our job responsibilities when we get back home. The same way, it is difficult to stop worrying about your home life or kids when you are at work.
It is extremely important for you to set boundaries so you can focus wholeheartedly on both personal, and professional aspects of your life. When you leave for home, don't bring work home. When you are spending time with your children or spouse, don't use your phone for sending emails or discussing some work related issue. In order to strike the right balance, you have to take care of your personal relationships.
You need to learn to say NO. Say NO to anything that does not align with your priorities. It is the key to successfully manage your professional and personal life. The first thing to do about it is to establish firm rules regarding your availability after office hours. The environment of your workplace plays an important role and, it might be as simple as not responding to emails, text messages, or work-related calls after a certain hour. When you stick to it, people will get the point. You have to make it clear to your colleagues when you are at home your time is for your family. This also assists you in spending quality time with your loved ones without any distractions.
Put your Phone Down:
Seemingly a small and harmless thing, it can make a big difference. It affects relationships too. When you get home from work, avoid using it for work but also try leaving it on do not disturb mode. Breaking this habit can be difficult with half of us being so addicted to your phones but, it can bring remarkable changes in your relationships both with your spouse and children. When you are talking to someone and constantly use your phone, it not only feels rude the other person feel rejected too. It affects the quality of communication you share with your partner and children.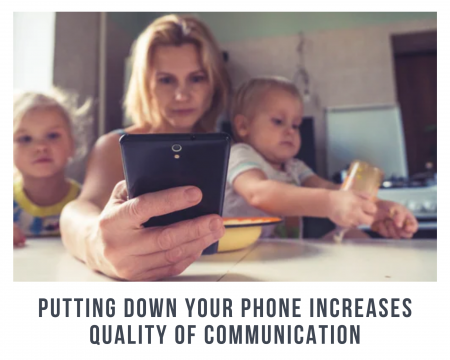 Cut down on your social media use as well. This is also directly related to phone time. You are physically present but not really interacting with the people around. Set a time for checking up on your social media. See it right after work or after dinner. Avoid using your smartphone right before sleeping as the blue light emissions from smartphone disturb your sleep cycle along with your circadian rhythms as well.
Make use of a reliable child monitoring app and find quality childcare:
A child monitoring app comes in handy to monitor your children's activities when you are at work. Xnspy was designed keeping in the mind of parents and especially, working parents who cannot be with their children during the day. It is an app you can trust completely. And it is not only simple to use, but it is also quite easy on the pocket. All you need to do is subscribe to the app and then install it on your child's phone. After 24-48 hours the app will fetch data from your child's phone and upload it to your web account.
The app monitors everything from text messages, calls, and locations to web browsing history, social media activity and a lot more. So, even while staying at work you can monitor your child's activities on the internet, see where they are in real-time and keep a check on how much time they spend on their phones. It is extremely important to make sure that they do not neglect their study or homework time. Xnspy lets you keep an eye on that.
Here are some of the features of the Xnspy app to give you an idea what this app is capable of:
If you notice your child acting tensed of off, and you notice him checking his email more than usual, it might need a look. And Xnspy lets you do that by giving you access to their emails. Cyberbullies have many ways to bully others. Apart from your social media accounts' they also get into your emails and send harassing or threatening messages/images. You can timely intervene and take action by checking your child's email.
Access Apps and Multimedia:
Nowadays, social media are all the rage for communication and having fun with friends. Xnspy allows you to monitor Facebook, WhatsApp, Skype, Tinder, Kik, Viber, and Facebook Messenger.
It is natural for teens to be spontaneous and adventurous. They would want to visit places you would not approve of. Yet. They can be reckless that is part of the adolescence age. With Xnspy's GPS location tracking feature you can know the location of your child. The app tracks the location of your child's phone. This feature is also great in finding a lost phone or if your child goes missing. Parents can also benefit from the geo-fencing feature of the app. Xnspy lets you add certain words to its Watchlist so you get an alert whenever that place is entered or exited.
If your child has an Android smartphone, then you can make use of Xnspy's keylogger feature. The keylogger feature lets you record keystrokes on all the frequently used apps such as Facebook, WhatsApp, Skype, Viber, and Facebook Messenger. Even if the messages are deleted, you can know about the keystrokes made on the phone.
Monitor Text messages and Phone calls:
Teens love texting and it is a popular means of communication. With the help of Xnspy, you can remotely access the incoming and outgoing text messages with completed details such as dates and time stamps. You can access everything that is going on the phone with the help of Xnspy's online web account. You certain words that you deem age-inappropriate or too explicit according to your child's age can be added to Xnspy's Watchlist. The app will notify you whenever any word from your added list comes up in the chat or conversation.
You can also see a detailed call analysis of the frequent callers and call durations.
Monitor Web Browsing History:
There is tons of content on the internet. Your child can be exposed to abusive, hateful or sexual content on the internet. Xnspy's lets you view the internet web browser history. This way you know the kind websites your child access. You can even block certain sites on your child's phone. Xnspy lets you see the Top 10 Websites. This way, you know which sites your child is accessing.
Xnspy lets you get the remote control of your child's phone. With the help of Xnspy child monitoring app, you can:
App blocking
Access to installed apps
Remote lock of the device
Live screenshots
Switch on the microphone of the target phone
Wipe data from the target device
Apart from using a child monitoring app, you could ask among your circle for references to daycare centers, nannies, and babysitters. A good childcare provider shouldn't only have impressive references but, an extensive experience and a record to prove is critical as well. A good daycare should provide you with the facility of flexible hours, updated licenses, an outdoor space, and trustworthy employees.
Last but not least, the secret to maintaining an ideal work-life balance is to take out time to do something that you really love. Anything that gets you relaxed. It could be a spa, or a massage, reading your favorite book, driving around or watching reruns of your favorite TV series. Even doing nothing at all and spending time at home. It can be anything. It is important that you learn to take care of yourself first and pay attention to your well-being. Only then, you will be able to take good care of your work and family.
This post contains affiliate links, which means I might receive a small commission if
you make a purchase using an affiliate link.

…
Moms Resources:
Four Ways to Make Some Extra Money Online