I decided it was time to try my hand at some crafts again in my spare time.
Because I love to garden I chose to paint some clay pots from inspiration perusing on Pinterest. There is always unlimited inspiration there, sometimes more than we need to see.I decided by the colors of acrylic paint I had on hand.
Gold, of course, being a favorite, its shiny and I love sparkle, like diamonds!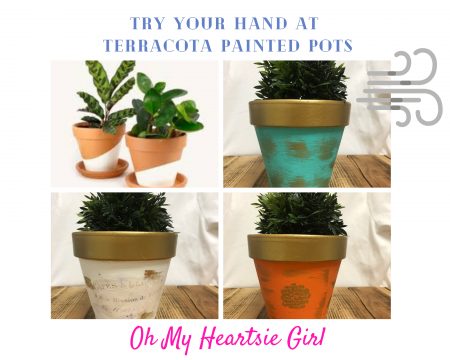 Now for me, anything in crafting has to be fun and easy and fast. So, I started with the basic terracotta pot, painted the rim "gold, letting it dry, I painted again. Then I painted the base with pretty turquoise. After letting it dry, (in the desert you dont have to wait long) I used a coarse bristle brush to make the swashes of gold all the way around. I will finish with a coat of Krylon Clear spray paint to seal the acrylic paint and protect the pot from water damage.
Very Easy!!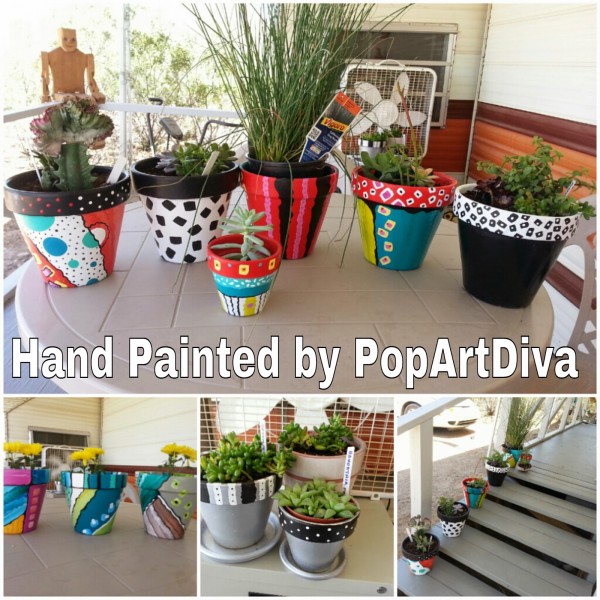 Pop Art Diva Hand Painted Clay Pots
Check these out she has great ideas, I love the one with black squares, I think I need to buy a basket full of pots. Oh and clay pots aren't just for planting, you can use them for storing craft supplies, on your bathroom counter,
kitchen, the possibilities are endless. What other uses do you think of?
Mommy Moment //Handpainted Terra Cotta Watermelon Pot
This watermelon pot is so cute, wish I had seen this idea, but there's another time. Terra Cotta pots are so easy way to show your creative side and if you need inspiration, just check out Pinterest.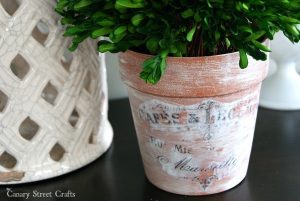 I really want to try some with Modge Podge, I saw a great video on how it is done. The one above I found on Canary Street Crafts . These can be done with paper that is printed in reverse and you use, photos or fabric!
And you can find printable's at the Graphics Fairy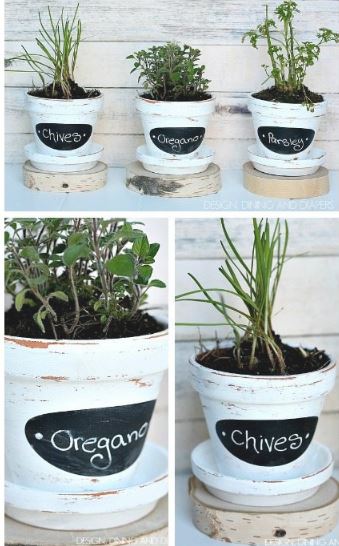 Design Dining and Diapers // DIY-Herb-Pots
These look so easy and are not only cute but practical  Feel Free To Pin There are so many great ideas, these are a few!

Running With Sisters // Flowery Mini Terra Cotta Pots: How To Decoupage With Fabric Have you ever thought about using a pretty print fabric to cover a post, this is done with decoupage.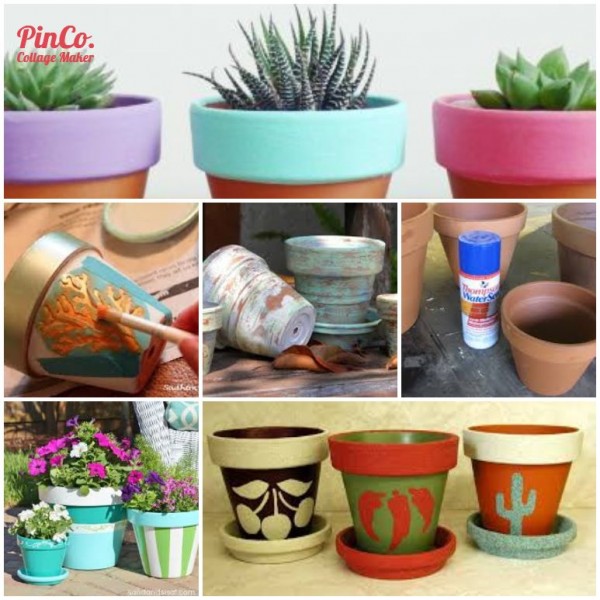 These are great and you could get the kids involved, let them create their own to plant in containers, did you read my article on how teaching kids to plant in containers will build their self-esteem?
Here It Is; "Growing Plants in Containers with Kids"
I would love it if you would follow:
Twitter | Bloglovin | Facebook | Pinterest | Instagram

Shared at These Parties:
Saturday Sparks Linky Party
Inspire Me Monday
The Mommy Monday Blog Hop
Clever Chicks Blog Hop
Fluster Buster Linky party
Share The Joy
Create With Joy
Dear Creatives
The Creative Collection Party
It's That DIY Party!
DIY – Do it Yourself Linky Party
Happiness Is Homemade Link Party
Hearts Home Blog Hop
Sundays Home Week Party

This post may contain affiliate links and I might receive compensation if you make a purchase after clicking on a link.
[…]
Related:
4 Great DIY Family Arts And Crafts Activities
Mother's Day Crafts Ideas 2016
Mother's Day DIY Gift Ideas 2019