Image Source: Unsplash
If you are planning to tie the knot soon, your thoughts will turn to the wedding ring and that involves making choices. Of course, one of the most important options is the gemstone that you wish to include in the ring, and there are quite a few precious stones that are found on this planet.
Here are a few ways that you can choose the central gemstone for your wedding ring.
Personal Taste – Probably the most popular way to choose a precious stone; we all have unique tastes and whether you prefer clear diamonds or ones of amber, there are custom jewelers who will design and hand-craft the ring to your precise specifications. The list of precious stones is indeed long and you can browse with Google Images until you find a stone that ticks all your boxes.
Birthstone – This is another popular way to select the gemstone for your engagement or wedding ring. If you are born in January, garnet is the stone for you. Emeralds are for those who have their birthday in May and their rings are often designed with a central emerald surrounded by pave diamonds. July is the month for rubies; you can find stunning natural ruby for sale Australia or a reputable custom jeweler in your country is offering.
3D Computer Imaging – This state-of-the-art technology enables the custom jeweler to create a 3D image of any precious stone; that can help you picture how the ring will look with any type of precious stone. When you approach a custom jeweler, you would first have a video call, which allows the jeweler to gain an understanding of what you are looking for.
Following Family Tradition – Your family might have a gemstone such as the ruby, with generations choosing ruby for engagement and wedding rings; sapphires, emeralds, garnet and even jade, are common preferences for families. If your family has a gemstone, talk to a leading custom jeweler who can acquire the uncut stones and create the perfect ring.
Work Out Your Budget
Once you have decided to commission a wedding or engagement ring, you need to work out your budget, as this will help the jeweler. Of course, some gemstones are more expensive than others and whether you are looking for uncut pink diamonds or a large sapphire, the custom jeweler can access the best quality stones at trade prices.
Gemstone Care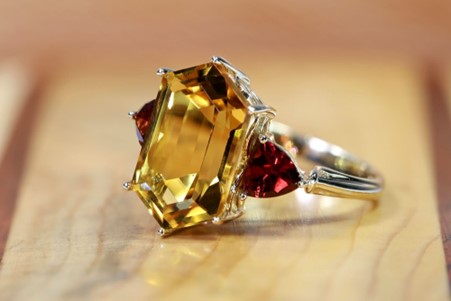 Image Source: Unsplash
Warm water with a dash of mild detergent is suitable for cleaning all gemstones. Be careful with chemicals, as they can tarnish a gemstone – if in doubt, consult a custom jeweler, as they know how to clean precious stones. Of course, diamonds and other gemstones are incredibly hard, yet the surface can be scratched, so do take care when wearing your ring.
The great thing about having a ring made by a custom jeweler is that you get to choose every aspect of the ring and with your favorite gemstone in the center, your engagement ring will always be special.
[…]
Jeulia Jewelry is Magical
5 Tips On Buying Jewelry That Will Last
This post may contain affiliate links and I might receive compensation if you make a purchase after clicking on a link.