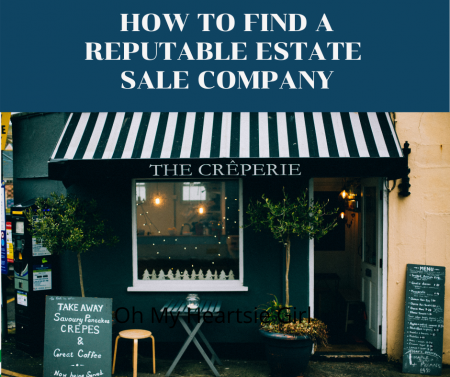 From missed appointments and hidden charges to accountability concerns, many estate sales companies have soiled their good reputation due to various unaddressed concerns with their customers. Unfortunately, it not always easy to spot such agents. So, if you decide to pick any that you bump on in this internet world, you might end up with a regrettable experience. The rush is not worth it. Some due diligence come in handy and most likely, that's why you are here. On that note, we've highlighted the following crucial things you can do to find a reputable estate sale company effortlessly.
Identify the merchandise to be put on sale
Before you even start to figure out the company that can help you with your estate sale, identifies the items that you intend to sell. You might have to list them somewhere and indicate their respective quantities if it is possible and reasonable. 
Come up with a list of the relevant local companies
Once you've known the items you want to put up for sale, ask for your friends, real estate agent and/or lawyer to recommend to you the best local letting agents you can count on for help in the sale. Besides, you can go online to search for estate companies in your locality. Make a reasonable list of the referrals and the ones you found online.
Look for reviews
It's very important to hear how other clients who've worked with the companies on your list say about their experiences with the agents.  You can get such reviews on the internet, for instance, on Yelp and estatesale.com.  Reviews by independent parties also give you a clue about the quality of services that a company offers. On that note, the Better Business Bureau's website is another great source that you shouldn't overlook. Some clients might have posted on the companies' social media pages and websites-check there out as well. Then, narrow your list down to the companies with the highest number of positive user reviews and recognized positively by independent reviewers and accreditation bodies like BBB.
Contact the best-reviewed
Now you have a list with several companies that you can manage to contact to get more information about them and their services. So, go ahead and call them and ask them questions regarding their services, commission charging method, insurance, and level of experience (how many years they've been in business and the total number of sales they've conducted so far).  Besides getting such crucial information concerning them, this initial phone interview gives you a feel of a company's customer service, especially in terms of responsiveness and etiquette.
Consider attending their sale
Although there's a likelihood that the things you've read or heard about an estate sale company are true, it's good to have a first-hand experience before you engage it in your sale. Attending one of its upcoming sales will be a prudent move as it will provide you with real experiences that might help you make the best-informed decision.
Invite a few companies to your place
Your list is now even shorter after attending the sales. But you have to vet the remaining companies even further to remain with one ultimately. So, the next thing you'll do is to invite the several you feel most confident about to see the items you intend to sell to get a rough idea of the amount of money you are likely to get from the sale when dealing with each of them. The physical visit also gives a company an opportunity to assess the merchandise and establish if they have what it takes to conduct the sale successfully or not.
An in-person interview gives the estate sale company a chance to assess whether or not they can handle the sale, and give an accurate quote based on seeing the contents of the estate. This is also a good time to discuss availability, potential timelines regarding how quickly the sale needs to be handled.
Request for written sale contracts
A sale contract details crucial information about the responsibilities of an estate sale company and yours too, as the owner of the items to be sold and how every party will discharge its respective responsibilities. Therefore, this is a document that you should read carefully. Compare the contracts you've seen from different companies and go for the one with the most favorable terms. In case a company insists on working with you without any written contract, it's advisable to move on to the next. You can't afford to gamble with your money and valuable merchandise.
Upon following these tips, you should be able to find a trustworthy estate sale company that you can work with seamlessly to achieve the best results from your estate sale. Are you saying that you don't have all that time for the vetting process but still want the best from the sale? Well, don't worry.  Rest assured that you can't go wrong with Attics to Basements Estate Sale, a trustworthy, highly experienced and BBB-accredited company. Contact us today for more information about us and how we can help you.
[…]
7 Must Have Cleaning Tools and Products for Home and Commercial Cleaning
6 Crucial Things to Consider When Planning Your Renovation