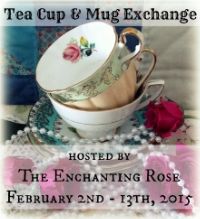 The Tea Cup Exchange was held in February and I jumped at the chance to exchange a Tea cup with someone I did not even know. I thought it would be fun to meet someone that likes pretty Tea Cups like I do. being a part of the Tea Cup Exchange brought to memory of my childhood. Ever since I was a little girl and like lots of girls, I was fascinated with tea sets and tea parties and anything that was miniature in size, "actually I still am fascinated with miniature anything",  I used to have host lots of teas parties "as a little girl". I loved having tea parties with my friends, we would even serve miniature meals with our party. I remember packing my tea sets to take to friends house to set up. We would have so much fun. ♥


But now to my Tea Cup Exchange. This past month, I just stumbled on The Enchanting Rose blog and as I did was exploring her blog and discovered that she hosts these Tea Cup Exchanges periodically through the year, so I jumped at the chance, introduced myself and signed up to do an exchange. At the end of signups, Stephanie sent out information to send a special someone a tea cup or mug. It was also not required for those participating to have a blog and we had a choice if we wanted to have a blogger to send to work with for the exchange.
My tea cup and package was sent to Linda Walker over at My Sew What Blog where she has shared the package I sent to her. You can check it out if you like Stephanie's Teacup Exchange–My Cup of Tea! Linda has a fun blog that she likes to share her love of sewing, crafts, country decor, vintage collectibles and antiques, baking , cooking and so much more!
And I would like to thank Linda Colantino, she has an Etsy store called Lady Linda Lou you could check out. Now for the package I received, it came with goodies, 2 kinds of note cards, candy (didnt last long) my beautiful tea cup, Pineapple topping for cup cakes, great for Easter and a wonderful card from Linda. It is so fun to meet new friends this way. I will cherish my tea cup for many years. I enjoyed a wonderful cup of tea as well. I look forward to the next time for the exchange. Thank you Linda I thoroughly enjoyed this experience you made it special for my first time!!
There is also the Tea Cup And Mug Exchange #6 Reveal And Linkup where you can see all the tea cup exchanges, from all over the world. Information below for the next exchange coming up can be found below.
I took more pictures when my package arrived but for the life of me, they are no where to be found, I was sad as each gift was wrapped so carefully in Easter colored papers.

If you have never joined in on the fun and would like to than click on the link below
to find out more about these sweet and delightful exchanges.