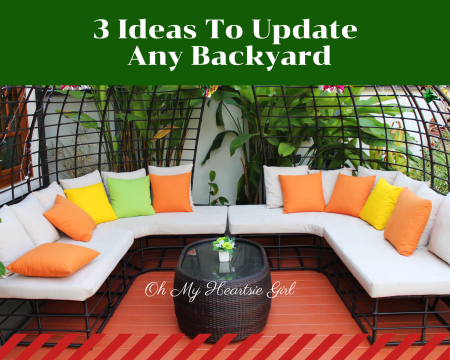 They say home is where the heart is. It's where countless memories are made with special people, where you come for solace and peace and where you go every night to rest and rejuvenate. Homes are truly special places for homeowners and families.
However, the inside of a home isn't the only part of a home where memories are made. Your home's backyard space has just as much potential for creating special moments with patios, conversation seating sets and other outdoor living accessories. If you're on a budget but also want to add a new spark of character to your backyard, here are three ideas to update your backyard.
1. Make A Tree Bench
Seating is essential in any place you want to spend lots of time in. While people may enjoy running around and standing for some time, having enough seats for family and guests is also important. You can create a unique seat by making a bench out of a tree. You simply have to build around the tree with the trunk serving as a base to build out from. Investing in wood isn't super expensive, and you'll have a seating arrangement that's very unique.
2. Create A Trellis
A trellis will transform your backyard to a fairytale spot for photos and flowers. You can make your own trellis with wood or metal and plant flowers or ivy on it that can grow all over the trellis to hide the structure. You'll take your backyard to the next level with a secret garden vibe from a trellis.
3. Add Shade With A Pergola
If your backyard soaks up the sunshine, that's an awesome feature but not super ideal for all hours of the day. A pergola is an inexpensive investment that will let you escape from the sun's beams while still staying outside.
If home is where the heart is, then you should do what's good for the heart. Adding simple updates to your backyard can take any home to the next level.
Related:
3 Ideas To Update Any Backyard
This post may contain automatically and manually added affiliate links, which means I might receive a small commission if you make a purchase using a link at no extra cost to you.