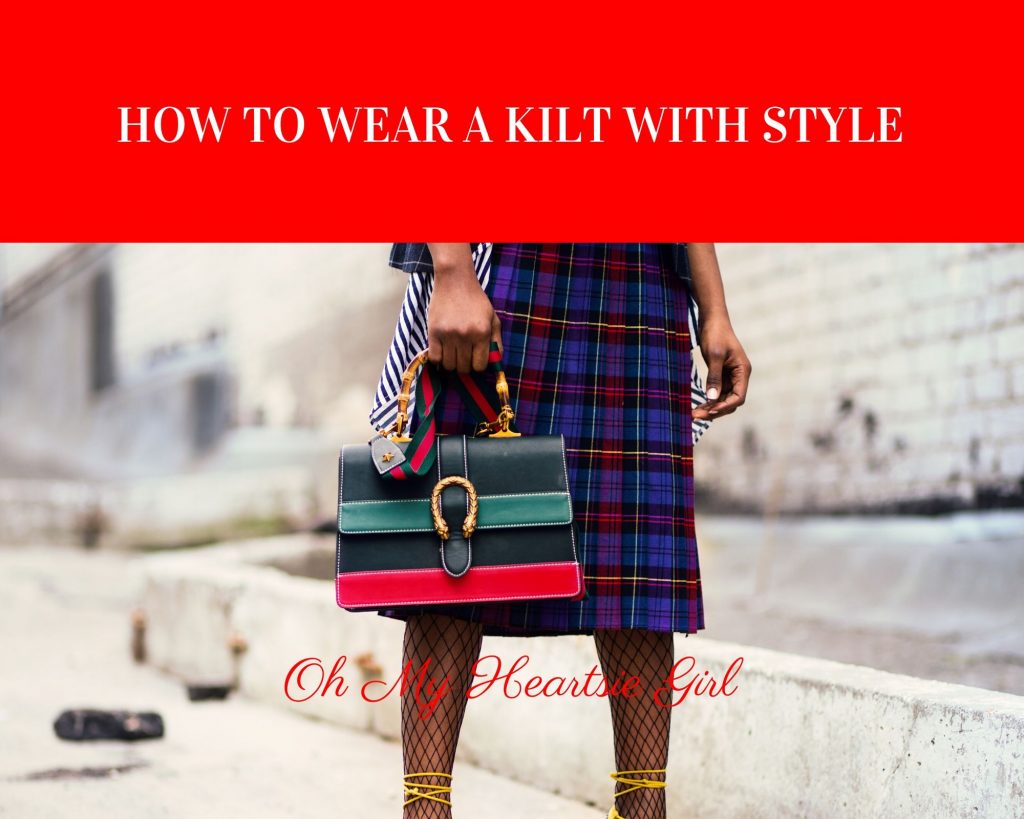 The kilt is traditional Scottish wear and has been a symbol of power and Scottish culture since the 16th century. It has changed over the years, as designers sought to make it more modern while retaining some of the traditional features that make it unique. The array of styles available at The Celtic Croft make kilts an excellent option for formal and casual wear alike; not just for Scottish men, but anyone interested in the rich symbolic culture of the Scottish people. 
Choose a stylish shirt to compliment the kilt.
Often, the kilt looks outstanding, depending on your entire outfit. The shirt you wear is what will determine if the kilt is part of formal or casual wear. You can choose to wear the kilt with a cool T-shirt when you seek a casual look or go for a shirt with distinguished designs. Ghillie shirts are great for both formal and informal wear. 
Use the belt and buckle for a modern or vintage look.
The belt you use will also influence your style when wearing a kilt. For an official look, you can choose a black or brown belt. A tight but comfortable adjustment is great for a formal appearance while leaving it slightly loose makes it more casual.
Antique belts, with brass or chrome buckles, also give you a unique outlook, especially if you are wearing some traditional kilt designs. If you seek a traditional style, you can opt for buckles with Celtic or highland styles.
Accessorize with a Tartan Fly Plaid or a Kilt brooch 
If you are concerned about the flap opening, you can add weight to the flap using a kilt brooch. While the brooch adds some personality to your kilt, it can also be functional and add a unique appeal to your quilt. Tartan fly plaid comes in assorted colors and styles which you can pair with different shorts for an outstanding appearance.  
Opt for tartan ties and tartan bows
Tartan ties and bows are great accessories to subtly show off Scottish pride and culture and, at the same time, maintain a formal appearance. The large variety of patterns available for tartan ties allows you to pick one based on your preferred style.
Wear Brogues for a more sophisticated look
The shoes you wear also have an impact on your style. Unlike other attires for men, when wearing the kilt, you need to think critically about every item you wear because it affects your overall appearance. Pairing your kilt with brogues is a great way to add sophistication to a traditional style. 
Add color to your kilt hose with kilt pins.
Kilt pins come in various styles and colors, including the masonic symbol and Celtic cross. It gives an impression of continuity when attached to the kilt hose, which is usually plain. This is one way to draw attention to your shoes. 
The kilt is no longer a preserve for the Scottish people but is being adopted internationally in appreciation of the diverse cultural practices that make humans unique. Designers are now adopting new accessories to complement this traditional wear and make it more modern without causing it to lose its cultural appeal.
[…]
How to Wear Feminine and Fashionable Vintage Styles Like a Pro
3 Fashion Accessories for Any Occasion
Combining Style and Comfort in Your Everyday Fashion