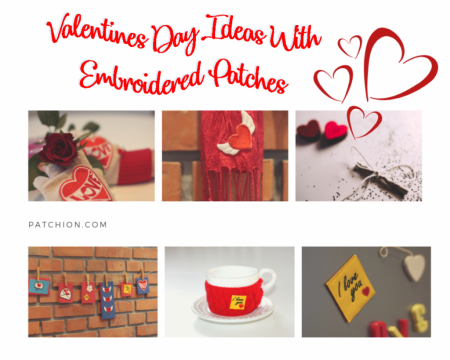 "Valentine's day is around the corner and lovers across the world are thinking of the best gift ideas. It is that time of the year when a simple gift determines the measure of your love. Unfortunately, expressing love is not about expensive gifts. The lover's day is a day to express love by doing something unique and special. Something that will create a long-lasting mark in the heart of your beloved. Embroidered patches stand out as one of the most unique gift ideas. Unlike other gifts, using embroidered patches helps you communicate your love in a unique way. A simple badge can turn a common everyday gift into something memorable and treasured, you can customize clothing by using . love embroidery designs and making that piece of clothing perfect!"
Embroidered Gloves
Gloves have for a long time been used as lovers gifts. However, buying your lover plain gloves on Valentine's day is a cliche. You can make the gloves more attractive and appealing by having them embroidered with a badge. A love symbol badge embroidered on the gloves will communicate love in the deepest way possible. Getting custom embroidered gloves gives you the chance to write a special message too. You can write your lover's name or have your name written on her glovers and her name on yours. You can also buy matching gloves with embroidered hearts and show them off on your day out.
Embroidered Mug Sweater
You could buy her a mug but it won't make the same impression as an embroidered mug. There are different designs of mug sweaters that can be customized according to your request. With a mug sweater, you can customize the regular mug gift to make it more personal and sentimental. For instance, you can buy him or her a mug embroidered with an "I love you" message. You can also customize the embroidered patches with a unique message of your preference. It is advisable to stick to short messages such as I love you, his/her first name or nickname. At patchion.com. we have different types of embroidered mugs that can be used to communicate your love.
Embroidered patch sewed on Scarf
A scarf is the best gift to add valentines embroidered patches. The advantage of scarfs is that they provide plenty of surface for the embroidery patch customization. You can think of anything that your lover likes and get it embroidered on the scarf. Some of the common embroidered badges ideas for scarfs include wild animals, movie characters, pets, inspirational quotes among others. We have many scarfs in different colours. Since Valentine's day is usually themed with red colours, we recommend light coloured scarfs embroidered with a red patch. You may also use a red scarf embroidered with purple or white patches. The other ideas you can use for valentines embroidered badges similar to scarfs include pillowcases, curtains, bed sheets etc.
Embroidered Cards
Adding valentines embroidered patches on a card can help make it more special and sentimental. The best part is that hard paper cards embroidered with cotton linen patches are very durable. The gift of an embroidered card helps convey your message in a special way. It also helps preserve memories of your valentine's day. An embroidered card with a touching love message can also be used to add decoration to the interiors. At Patchion, you can choose from a wide range of valentines day cards customized with special messages.
Fridge Embroidered Badges
Surprise her with a big I Love You message on the fridge or simply stick an embroidered heart symbol on the fridge door. There are many ideas for embroidery badge and stickers. We can create embroidered stickers for all the alphabetical letters giving you the freedom to write whichever message you want on the fridge. You can communicate your love by selecting her favorite colours and mixing them with a love symbol. We can also customize the fridge embroidered badges according to your preferences. We can create badges for animals and other shapes of your preference.
Order cool embroidered patches today from Patchion.com
Conclusion
At Patchion, we produce all types of embroidered patches for lovers. We can help you celebrate your valentine's day in style by creating custom embroidered patches on demand. Just contact us and we will be glad to customize your valentine's day gift.
Need custom embroidered patch or badge? Say "ohmyheartsiegirl" and get free UK delivery.
For more cool embroidered patches related ideas visit patchlike.com

This post may contain affiliate links and I might receive compensation if you make a purchase after clicking on a link.
[…]
Related:
5 Romantic Valentines Ideas
The Ultimate Guide to Picking Gifts for Valentine's Day
5 Secrets to Creating Beautiful Meals at Home