If there's a prime location in the United States for fashion, New York City is it. With September arriving, it's the perfect time of year with the coming of NYC's bi-annual Fashion Week. People planning to attend any of these events may be a little overwhelmed as there is just so much going on. Here's a rundown of what can be expected from Fashion Week.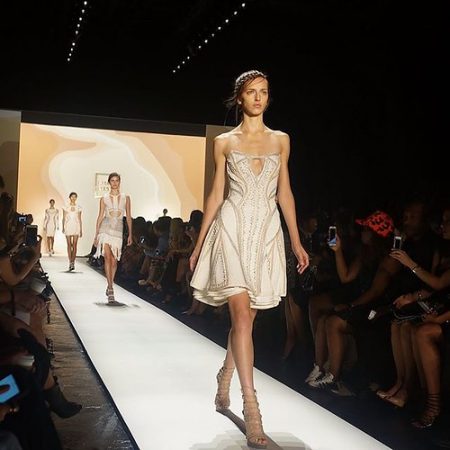 Image via Flickr by 1000heads
The Beginning
There's a lot to see during any fashion event, and NYFW boasts a series of different ones. The week officially begins on September 4 and 5 with designers and influencers discussing their works. The first runway shows begin on September 6 with Art Hearts Fashion and Style Fashion both starting the first of a full weekend's worth of runway shows.
After September 6, NYFW really takes off. It features multiple shows a day from different designers and their companies, and there's not one that any enthusiast or buyer would want to miss. This is, after all, the place to see the newest fashions from the top designers in the industry. The weekend NYFW takes off is arguably the most exciting time. Make sure to check out the shows and not miss a single one that sparks your interest.
Not Just Clothing Fashion
There's much more to NYFW than just clothes and runways. There are events dealing in accessories and make-up. September 12 and 13 will see the Make-Up in New York exhibition where professionals will share the new trends.
The Berta Trunk Show New York is a must-see for any bride planning the perfect wedding. This show is specific to weddings with a wide array of dresses, veils, bridesmaid collections, florists and their art, decorations, cakes, and everything else for the perfect wedding.
Men's Fashion
The Metropolitan New York Footwear, Apparel and Accessories Marketplace in the Meadowlands on September 12 and 13 is the perfect place to go when searching for the newest in men's fashion. Companies here will unveil their newest in boy's and men's clothing, sportswear, footwear, and more. Don't miss this amazing event to stay up-to-date on fashion, guys!
The Style Fashion Show previously mentioned will also be showing off some men's party wear. It is the perfect place to see the next dapper suit to blow away any admirers at your next dinner party.
Riveted and Tired
After a long and exciting day, there is nothing nicer than retiring somewhere comfortable for the night and resting up for the next day. The Meadowlands is the perfect place to book overnight stays, offering many different choices. The rates are affordable, and with it being right outside of the city, it's a quieter place to get some sleep. With all of these options, the likelihood of all the rooms being occupied (from all the traffic coming in for the shows) is also low.
NYFW ends September 14, but there are events that run through October that deal with the fashion industry. There's no way to bring in the fall like exploring all the new and trendy fashions.
Combining Style and Comfort in Your Everyday Fashion
The Ultimate Guide to Managing an Instagram Account for a Fashion Brand
I might receive compensation if you make a purchase after clicking an affiliate link at no cost to you.